Written Condolence Etiquette: Do You Know the Rules?
Thursday, May 21, 2020
Written condolences can be challenging to compose. Losing a loved one is a deeply personal event and everyone deals with their emotions differently, making it difficult to know what to say.
Still, it is important to acknowledge the loss and offer condolences to the family. In this article, we have compiled some sympathy message guidelines to help you compose the perfect sentiments of comfort.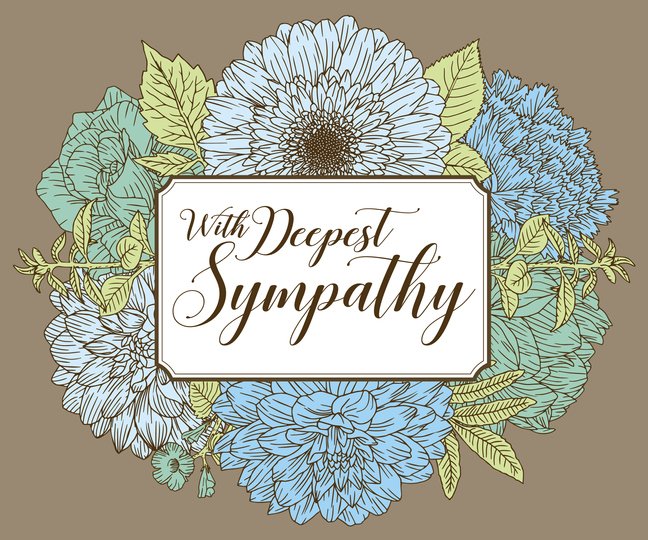 Be prompt.
Mail your sympathy card or post your online condolence message as soon as possible after learning of the sad news. If you recently heard about a loss that happened months ago, include a note apologizing for the delay. For example, you could say, "I just heard about the loss of your mother earlier this year. I am sorry for the delay in acknowledging her passing, but I did want to extend my sincerest sympathies to you."
Follow proper address etiquette for sympathy cards.
If you are sending a condolence card, address it to the closest relative of the person who passed away, generally the widow/widower or the eldest child. When signing the note card, always include your last name, as there may be others who share your first name. Legibly print your return address or affix an address label on the envelope so that the family can send you a note of thanks if they choose to do so.
Express your sentiments appropriately.
It is acceptable to simply sign a sympathy greeting but it is nicer and more personal if you take the time to add a message. In general, it should be short and simple. If you were especially close to the person who passed away and wish to share fond stories or memories, it is appropriate to write a more extended message. Some examples of suitable short phrases include:
· "Our deepest sympathy to you and your family."
· "(Name) will always be in our hearts."
· "My thoughts and prayers go out to you at this difficult time."
· "Please accept our condolences on the loss of your (mother/husband/friend/etc.)."
Be sensitive to the recipient's feelings.
Keep in mind that the person to whom you are sending the sympathy greeting is grieving a loss. Trite phrases and clichés can come across as unfeeling and, therefore, should not be used when composing your message of sympathy. Avoid statements such as:
· "I know just how you feel."
· "It was their time."
· "It's for the best."
· "You must be relieved."
Avoid referencing any details surrounding the passing.
These painful memories are still fresh in the mind of grieving family members and mentioning them is sure to make their sorrow even worse.
Only include messages pertaining to your condolences.
A sympathy card is not the appropriate vehicle to provide updates regarding the happenings in your life. If you want to tell the recipient about a recent move or job change, for example, share that news in a separate message.
Sending a greeting card or an online tribute is an excellent way to express your condolences. Remember that those who are grieving will need your encouragement long after the services have concluded. Following up with a periodic phone call, email or "Thinking of You" card can keep the lines of communication open and let your friend know that you are available if he or she needs your support.
By sending a sympathy greeting, you are making a considerate gesture to the bereaved that lets them know you are thinking of them during their time of sorrow. Please contact us for other supportive ways you can assist others through their journey of loss. Our caring professionals are always here for you.
About Batchelor Brothers Funeral Services: As a leading African American-owned and operated funeral and cremation organization serving three states, Batchelor Brothers Funeral Services has provided a ministry of care to thousands of grieving families. We promise to provide our highest level of distinguished service and respect to families who entrust us to honor their loved one. In all aspects of the funeral process, we strive to be the absolute best and are honored to help preserve our clients' legacies for future generations. With two convenient locations serving North and West Philadelphia, as well as Drexel Hill, it is always our pleasure to be of service. Please visit our website for more information.
Previous Posts
When the weather turns frigid and the days grow short, it's a sure sign that cold and flu season is on the way. Winter is around the corner, signaling the battle cry against seasonal illnesses. It...