The Guilt of Grief: How to Stop Blaming Yourself
Monday, August 17, 2020
Are you experiencing intense guilt following the loss of a loved one? If so, you aren't alone.
Guilt is a common emotion in the wake of loss. While it isn't unusual to the grieving process, holding onto remorse can prevent you from reaching the acceptance phase of grief. The cycle of guilt and blame can even become chronic and detrimental to your health and relationships. Below, we'll explore some common reasons why we feel guilt and blame, and what to do about it.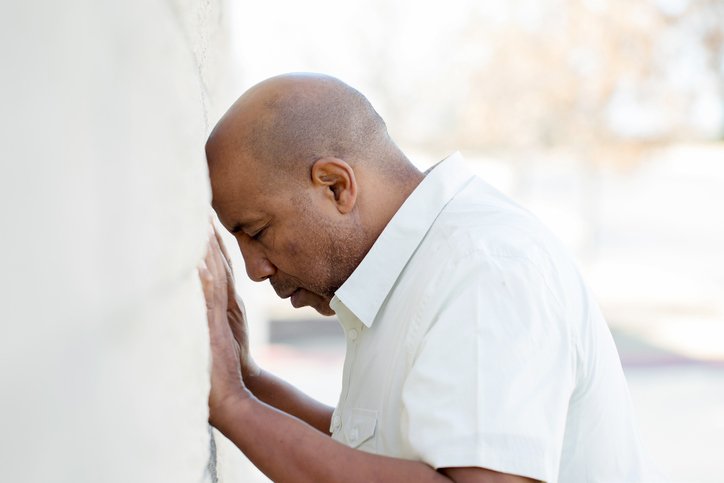 Perhaps you made a mistake.
Maybe you avoided going to the funeral or memorial service. Perhaps you feel that you treated your loved one poorly while they were sick. Regardless of what you think you did, what's done is done. Recognize that while changing the past is outside of your control, what you do going forward isn't. If you have done something wrong, admit it. It can be cathartic to write a letter to your deceased loved one, asking for forgiveness and admitting your wrongdoings. Pray for forgiveness and learn to receive it. Recognize that holding onto the burden of guilt doesn't change the past. Take comfort in the fact that the past is done but the future is unwritten.
Maybe you perceive that you did something wrong.
Perhaps no one has called you out and you can't quite pinpoint what you did wrong but you just feel guilty. If you commonly blame yourself for events that are out of your control, recognize that your current feelings of guilt may not be deserved. Talk to a trusted friend, advisor, or family member and get their perspective. Sometimes we need to hear from someone else that we are not to blame. Perhaps you couldn't attend your loved one's funeral service because you were very sick or were prevented from attending due to the pandemic. Allow yourself to recognize the circumstances that are beyond your control and that you do not need to take emotional responsibility for them.
Another common reason to feel guilt and blame is that we want to create order out of a chaotic and unpredictable situation.
The loss of a loved one can make us feel muddled internally. You may be craving a sense of order that just doesn't seem to exist. Hanging onto the burden of guilt can make you feel like you had a say in the outcome when really you didn't. It can be challenging to accept that so much is out of our control. Yet, holding onto guilt can prevent you from advancing through the grieving process in a healthy way. If you are choosing guilt out of a desire for control, try to empower yourself by balancing out your negative feelings with positive thoughts. There is some scientific evidence that we can learn to "retrain our brains". When your mind goes to guilt, try to immerse yourself in positive thoughts related to your life and your loved one. Eventually, your brain will get used to thinking differently.
While guilt is a common feeling, your experience is unique.
You may need to try more than one thing before you see a difference.
Recognize that your feelings are valid. Even if you don't have a specific reason to feel guilt and blame, accept that you are feeling them and that it is permissible to do so.
Examine your thoughts. Are they warranted? Rational? Irrational? If you can't work through them alone, consult with a family member or other trusted person.
Own it. Acceptance will help you to move on. Whether you actually did something wrong or just feel that you did, recognize that guilt is a common feeling. It is a normal part of the grieving process following the loss of a loved one.
Ask for forgiveness. This is probably the most challenging task. Although your loved one is no longer here, you can still ask for forgiveness, either by praying, saying it out loud, or writing a letter. Lay bare your feelings and ask yourself for forgiveness, then grant it to yourself, even if it feels unnatural at first.
Seek counsel. Sometimes it takes a professional to help us to recognize and let go of what is outside of our control. You might also reach out to someone at your church or in your community.
Overcoming feelings of guilt may feel like an impossible task, but there is hope. If you need further recommendations or additional resources, we are always happy to help. Please reach out to our caring team anytime.
About Batchelor Brothers Funeral Services: As a leading African American-owned and operated funeral and cremation organization, Batchelor Brothers Funeral Services has provided a ministry of care to thousands of grieving families. We promise to provide our highest level of distinguished service and respect to families who entrust us to honor their loved ones. In all aspects of the funeral process, we strive to be the absolute best and are honored to help preserve our clients' legacies for future generations. With two convenient locations serving North and West Philadelphia, it is always our pleasure to be of service. Please visit our website for more information.
Previous Posts
Going through a loved one's belongings after they have passed away is often difficult but you can make the process easier. Just as there is no right way to grieve, there is no specific time that y...