Downsizing Tips for Seniors: Eight Secrets to Simplify Your Life
Saturday, August 28, 2021
Moving to a smaller home as a senior citizen is unlike other relocations.
It requires far more planning and forethought than a move made in your twenties or thirties. Most likely, you now have an entire lifetime of possessions to consider, which makes downsizing later in life a unique challenge. Fortunately, there are many things you can do to make the downsizing process go smoothly.
In this article, we have compiled eight smart strategies to help make your relocation a hassle-free breeze.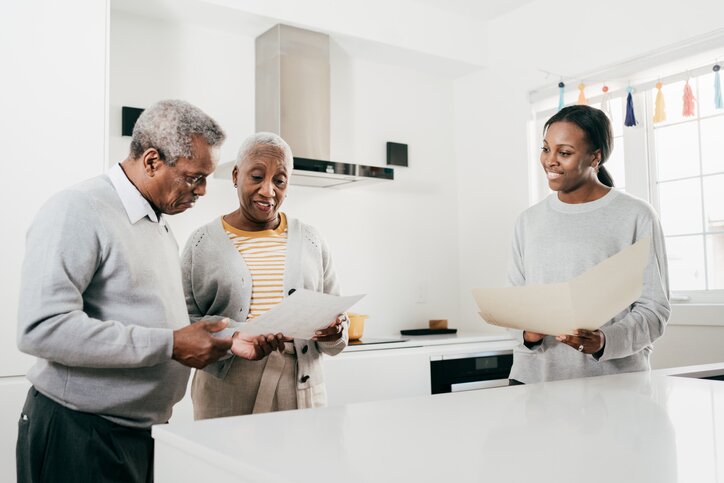 What matters most?
Start thinking about which belongings you simply bear to cannot part with while keeping in mind that there will be less space in your new home. Create a list of these treasured items. Then, create another list of items that are important but may need to be "rehomed" to a friend or family member if you become short on space.
Start small.
Tackle practical essentials first, like kitchen and bathroom supplies. Save the big stuff for later. Once you've gotten into a rhythm with allocating the basics, it can make it easier to decide what stays and what can go.
Sort items into three categories: keep, toss, and give away.
As you go through each room in your home, label containers for what you want to keep, donate (or give to loved ones), and dispose of. It can be tempting to create a "maybe" pile, but try to resist! Eliminating the maybe option keeps you on task and minimizes the paralysis that can set in with downsizing.
Secure your prized possessions.
Downsizing and moving can be hectic. It can be helpful to rent a storage unit or use part of a family member's garage or basement to place your precious items in during this chaotic time. Doing so reduces the risk of damage or loss of those items and also makes your home appear more spacious to potential buyers.
Create a floor plan for your new home, if possible.
If you have already chosen your next residence, get the dimensions for each room. Then measure each piece of furniture you want to take with you. Use those measurements to create a room-by-room floor plan so you will know what will—and won't—fit in your new space. If possible, it's also a good idea to visit your new residence so that you can visualize how it's all going to come together.
Make a plan for disposing of unwanted items.
Figuring out what to do with no longer needed items can be time-consuming. Many nonprofit organizations welcome donations, but you will need to conduct research to determine what they will and won't accept. Some charities offer donation pick-up services for larger pieces of furniture or multiple boxes. Be sure to ask each organization for a receipt so you can deduct the donations from your taxes. Keep in mind that electronics have specific rules for disposal that must be followed.
Start well in advance.
If you have lived in your home for many years, it's easy to become overwhelmed by the notion of downsizing. That can lead to procrastination about getting started, which makes the process even more difficult. Starting early gives you the advantage of time and makes the relocation effort less stressful for everyone involved.
Pack an "essentials" bag.
When you make your big move, there are some things you will need access to right away. Prepare a separate bag or container of essentials so you don't have to hunt through boxes on day one. Your essentials container should include:
One or two changes of clothing
Pajamas and slippers
Toiletries, medication, and eyeglasses
Important documents
Basic kitchen and meal supplies, including non-perishables, snacks, and disposable plates, cups, and utensils
Cleaning supplies such as soap, paper towels, Windex, Lysol, and sponges
Payment for movers and a small amount of cash in case of an emergency
Transitioning to a smaller home as a senior can be a bittersweet experience. If you need additional resources or have questions, our caring team of professionals is always here to assist you. Please contact us anytime.
About Batchelor Brothers Funeral Services: As a leading African American-owned and operated funeral and cremation organization, Batchelor Brothers Funeral Services has provided a ministry of care to thousands of grieving families. We promise to provide our highest level of distinguished service and respect to families who entrust us to honor their loved ones. In all aspects of the funeral process, we strive to be the absolute best and are honored to help preserve our clients' legacies for future generations. With two convenient locations serving North and West Philadelphia, it is always our pleasure to be of service. Please visit our website for more information.
Previous Posts
When returning to work after a loved one's passing, expect to encounter a complex blend of emotions. Grief is a deeply personal journey, and it's important to remember that there is no right or wr...