The Essential Guide to Visiting a Terminally Ill Loved One
Thursday, September 23, 2021
The idea of visiting a loved one who is about to pass on can stir up a variety of emotions.
You know that your time with your beloved family member or friend is drawing to a close. However, being unsure of what to say or do might cause you to put off visiting them in their final months, weeks, or days. It is important to realize, though, the benefits of spending time with your loved one who often far outweigh any initial discomfort you may experience.
Below are some suggestions to help you to embrace the precious time you have left together.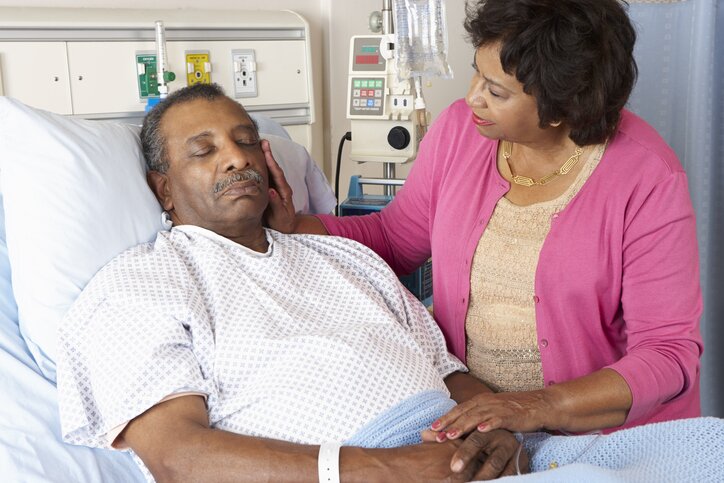 Knowing what to expect in a hospice or palliative care setting allows you to prepare for your visit.
Depending on the illness, the person who is passing may be bedridden, may or may not be communicative, and could have tubes attached. Consider talking with other close friends or family members who have already visited with your terminally ill love one. Ask them what you can expect. Speaking to those familiar with hospice or palliative care, such as healthcare workers, can also be useful. They can explain to you what the machinery does and the sounds you might hear, such as beeping. You may be fearful of how you might react to the decline in their quality of life. Try to focus on the person rather than the machinery or the setting. Remember that your loved one is also experiencing this for the first time. Having you there can help them to feel more comfortable in the time they have left.

Having an idea of what you might say during your visit can also be helpful.
There is no "perfect'' thing to say in this situation but it can be useful to reframe your mindset. I am not here to fix the situation, because I cannot. I am here to be supportive. If you're at a loss for words, simply say, "I don't know what to say." Or you might ask, "How are you doing today?" By focusing on today, you zero in on the moment. Their response will give you clues about their current state and conversation topics. Let them set the tone of the visit or ask them what they need. They may want you to listen, make them laugh, or just be there.
You can demonstrate your love and care in a variety of ways.
Other friends or family members may be better with words, so allow them to do the talking while you do something useful for the person who is passing on. They may have bills to organize or home to care for. Cook prepared meals to bring to their family, take their young children to the park, or fold their laundry if they are at home. You might also bring a small gift--their favorite magazine or flower--to let them know you are thinking of them. Provide spiritual care by setting up a visit with their pastor, praying with them, or simply sitting together in quiet meditation. Sometimes actions are better than words.
You don't have to go it alone.
Rely on friends and family members to make visits, too, so that your loved one receives plenty of attention and care. Those who live a distance away can email you their special thoughts so you can share their messages when you visit. It can be particularly meaningful for those who are in their final days to know that people are thinking of them.
We hope these tips have helped to alleviate some of your concerns about visiting a terminally ill loved one. If you need additional pointers or ideas for your visit, please feel free to reach out to us anytime. One of our caring team members is always available to speak with you.
About Batchelor Brothers Funeral Services: As a leading African American-owned and operated funeral and cremation organization, Batchelor Brothers Funeral Services has provided a ministry of care to thousands of grieving families. We promise to provide our highest level of distinguished service and respect to families who entrust us to honor their loved ones. In all aspects of the funeral process, we strive to be the absolute best and are honored to help preserve our clients' legacies for future generations. With two convenient locations serving North and West Philadelphia, it is always our pleasure to be of service. Please visit our website for more information.
Previous Posts
When returning to work after a loved one's passing, expect to encounter a complex blend of emotions. Grief is a deeply personal journey, and it's important to remember that there is no right or wr...