What Does a Pallbearer Do? The Guidance You Need to Perform this Task Flawlessly
Wednesday, September 29, 2021
If you have been asked to be the pallbearer at a funeral, you have been bestowed with great honor.
Serving as a pallbearer means that you will play an integral part in the upcoming funeral. You may be wondering what your duties will be and what will be expected of you.
Below is an overview of the duties and etiquette surrounding this important role.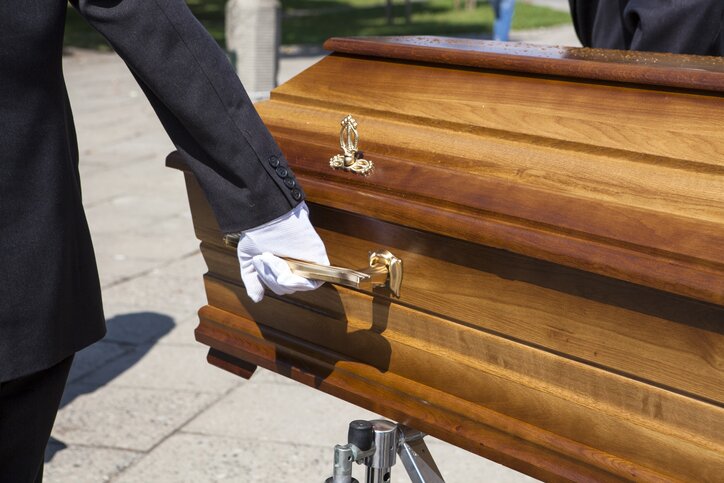 It is important to first understand the role of the pallbearers at a funeral.
The primary job of a pallbearer is carrying the casket from one point to another at several points throughout the funeral. Choosing pallbearers should not be taken lightly. You have been selected because of your closeness to the departed or your importance to the family. Perhaps you are a relative or were close friends with the one who passed. Or, you may have been selected because of your physical strength. Being a pallbearer requires that you help carry a heavy coffin at waist height with the help of five to seven other pallbearers. The weight of both the decedent and the casket varies but expect to help bear 300 pounds of weight or more. The pallbearers who carry the coffin are called "active". If you find that you are not physically up for the task, you can decline but still participate in the funeral as an honorary pallbearer. In this role, you will walk alongside the other pallbearers but do not have to physically carry the coffin. Sometimes honorary pallbearers receive this role when the primary pallbearers have already been chosen. Whichever role you end up in, know that they are an equal honor.
If you are up to the task physically, possessing emotional maturity is also important.
Pallbearers' duties include greeting the families at the funeral home prior to the funeral procession and carrying the coffin or casket down the aisle in the church. To serve as a pallbearer, you are expected to be both physically and emotionally sturdy. All eyes are on the pallbearers as they complete their duties, and keeping your composure is important. It is acceptable and normal to shed a tear or two. However, if you are prone to being overly emotional, the role may not be right for you. If you are uncertain as to whether you will be able to remain in control of your emotions throughout the funeral service, speak with the family to explain why you might not be a suitable fit.
Pallbearers should dress conservatively.
When it comes to dressing for the funeral, think neat, tidy, and respectful. You do not want to be flashy or stand out. Appropriate funeral attire might include a dark suit, a crisp white dress shirt, and a conservative tie. Women should also wear dark clothing. To avoid wrinkling your clothing, consider bringing your jacket and putting it on at the funeral home just before you greet the family. Also, choose dress shoes that are clean, comfortable, and sturdy. Carrying the coffin to its final resting place might include walking across concrete, uneven terrain, and even mud if it is raining outside. Check the weather and plan your outfit accordingly.
Finally, pallbearers are expected to be punctual.
Ensure that you have transportation to the funeral home, which is where you will begin to serve your duties as a pallbearer. Plan to arrive far in advance of the funeral. Pallbearers also will need to travel together in the funeral procession, in a car just behind the hearse. You will be responsible for helping to transport the coffin from the funeral home to the hearse, from the hearse into the church, back to the hearse, and finally from the hearse to the final resting place/cemetery. It is important to show up early and stay with the group as you perform your duties.
If you have remaining questions or want more specifics about the duties of the pallbearer, please reach out to us. Our knowledgeable funeral directors would be happy to discuss these important responsibilities with you in more detail.
About Batchelor Brothers Funeral Services: As a leading African American-owned and operated funeral and cremation organization, Batchelor Brothers Funeral Services has provided a ministry of care to thousands of grieving families. We promise to provide our highest level of distinguished service and respect to families who entrust us to honor their loved ones. In all aspects of the funeral process, we strive to be the absolute best and are honored to help preserve our clients' legacies for future generations. With two convenient locations serving North and West Philadelphia, it is always our pleasure to be of service. Please visit our website for more information.
Previous Posts
Going through a loved one's belongings after they have passed away is often difficult but you can make the process easier. Just as there is no right way to grieve, there is no specific time that y...