Writing Thank You Messages After the Funeral? Here are Seven Important Ways to Show Your Appreciation
Tuesday, October 26, 2021
When a loved one passes, no words can fully express our gratitude for the close friends and family members who lend their support during difficult times. Funeral thank you notes are one good way to convey appreciation for these kindnesses.
There are no hard and fast rules for funeral thank you notes but there are some guidelines that can make your job easier and do a great job of expressing your sincere gratitude.
Here are seven things to keep in mind: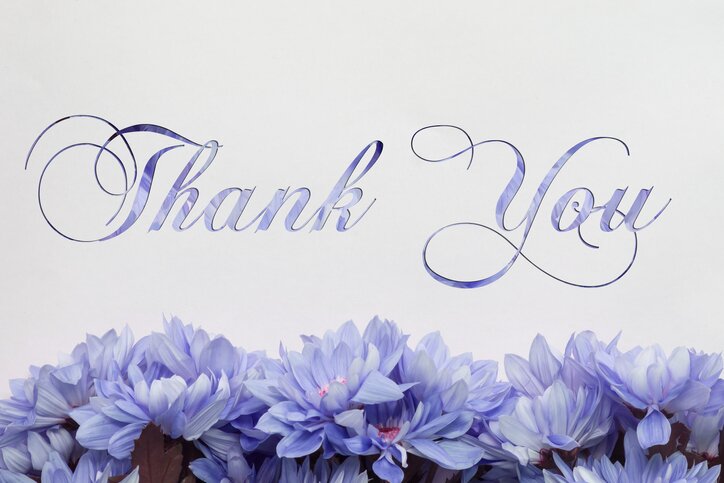 There is no 'correct time' to send a funeral thank you note.
Your friends and loved ones understand that you are grieving and will be bereaved for some time, so there's no need to rush. However, when your heart is heavy, writing thank you notes can be a therapeutic activity. They allow you to focus on how much you and the departed are loved rather than on your sorrow.
Keep it short.
A simple acknowledgment can go a long way. Two to three sentences are enough and there's no need to write in a formal manner. Your note should contain the following information:
Name or nickname of the recipient
A brief message expressing how thankful you are for their time and support
Concluding statement that mentions how their presence or help comforted you
Offer warm regard, such as sincerely, with love, much love, many thanks, etc.
Your signature
Be specific if possible.
Was your cousin a pallbearer? Did your neighbor send a gorgeous funeral arrangement? There are many ways people can show their care and concern during the funeral and bereavement period. In your note, be specific in your thanks for the friend who took care of your puppy, the co-worker who prepared casseroles, and the niece who made a generous donation to your loved one's favorite charity.
Include your full name in the note.
Be sure to include your last name when thanking those who aren't close friends, such as the workplace of your departed loved one. This is especially important if you are sending out your acknowledgments long after the funeral is over.
Don't be shy about asking for help.
The task may seem overwhelming, particularly if you need to thank many people. Ask a family member or close friend for help. They will probably be more than happy to assist you.
There's no need to thank everyone who attended.
Don't stress yourself out about trying to recall every person who showed up at your loved one's visitation, memorial, or funeral service. Those who sent funeral flowers made a donation, gave eulogies, and acted as pallbearers should be at the top of your list. Clergy members and officiants, musicians, and others who assisted in various ways should be included, as well.
Make use of technology.
It's perfectly acceptable to send an email, text message, or make a phone call to say thank you. These actions get the job done efficiently and have become the norm in our tech-driven society. That being said, there is something extra-special and personal about a handwritten funeral thank you note. You may wish to reserve handwritten notes for those people who went above and beyond in demonstrating their support.
Your goal in writing funeral thank you notes is to express gratitude for the kindness shown to you and your family. Whatever sentiment you include in your message, the recipient is sure to appreciate the time you took to say thank you.
If you have questions or need additional information about funeral thank you notes, our caring staff is here to assist you. Please feel free to reach out to us anytime.
About Batchelor Brothers Funeral Services: As a leading African American-owned and operated funeral and cremation organization, Batchelor Brothers Funeral Services has provided a ministry of care to thousands of grieving families. We promise to provide our highest level of distinguished service and respect to families who entrust us to honor their loved ones. In all aspects of the funeral process, we strive to be the absolute best and are honored to help preserve our clients' legacies for future generations. With two convenient locations serving North and West Philadelphia, it is always our pleasure to be of service. Please visit our website for more information.
Previous Posts
When the weather turns frigid and the days grow short, it's a sure sign that cold and flu season is on the way. Winter is around the corner, signaling the battle cry against seasonal illnesses. It...