Announcing a Funeral Service? Follow These Helpful Guidelines
Sunday, February 20, 2022
A funeral announcement is a message or invitation that shares the news of a loved one's passing.
It can be digital or hard copy and often provides information about commemorative events that are being held to honor the departed. If there are no funeral services or celebrations of life planned, or if they will be private, the announcement can simply inform recipients of the passing.
In this article, we will share some important guidelines and etiquette information to assist you in creating a meaningful and appropriate funeral announcement.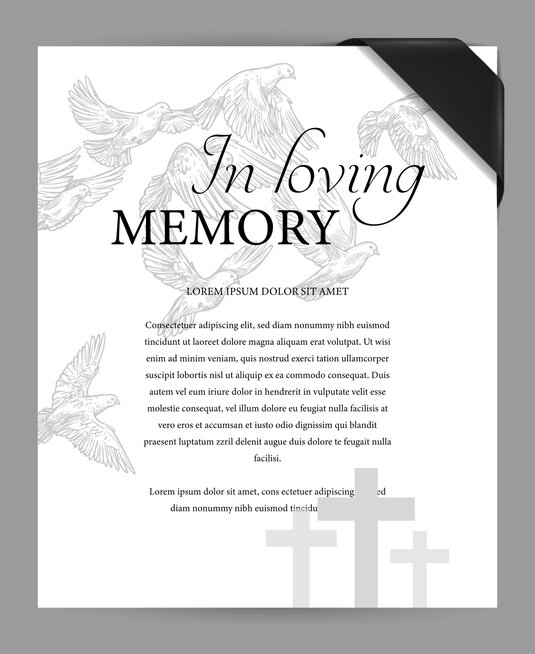 Funeral announcements are not the same as obituaries.
An obituary is usually published in a newspaper or online, and usually includes public notice of death, a biography of the departed, miscellaneous information about the funeral arrangements, and the names of surviving family members. Unlike an obituary, a funeral announcement is not published and generally does not include biographical details. The wording is similar to that of an invitation and often includes particulars regarding the funeral service. It is intended to be shared with family, close friends, and acquaintances rather than the general public.
Be succinct.
Keep your announcement fairly brief and to the point. It is not the place to tell the life story of the person who passed away; these details are better suited to the obituary.
Feel free to personalize the announcement.
Your loved one was unique and their funeral announcement should reflect that individuality. There are no "one size fits all" instructions. Although brevity is the norm, incorporating a few personalization elements can be a lovely tribute and are perfectly acceptable. For example, if the departed was deeply religious, you may wish to include a favorite scripture passage and some spiritual imagery.
Consider the audience.
When writing a funeral announcement, think about the recipients and share the details they will need to attend the funeral service or send their condolences. It is an invitation of sorts, so be sure to include the customary information: the name of the departed; their date of birth and death; details for the memorial service, including day and date, the time, and the location address; any special requests that may apply; and the URL and password for virtual events. In addition, some families may wish to announce if a meal, repast, or reception is planned following the service.
How will you share the announcement?
Some people choose to post-funeral announcements on social media so they can readily be shared, while others prefer to send them directly to specific individuals to keep the guest list to a minimum. If you wish to have a public service with many people in attendance, however, you may even consider placing the announcement in the local newspaper.
Proofread and double-check your draft.
Writing the funeral announcement is an important part of honoring your departed loved one, so take your time and do not rush through the task. Before the information is printed or published, ask several people to carefully review the text for errors in spelling, grammar, punctuation, and accuracy of information.
If you would like to know more about funeral announcements or wish to make arrangements, our compassionate professionals are here to assist you. Please contact us anytime.
About Batchelor Brothers Funeral Services: As a leading African American-owned and operated funeral and cremation organization, Batchelor Brothers Funeral Services has provided a ministry of care to thousands of grieving families. We promise to provide our highest level of distinguished service and respect to families who entrust us to honor their loved ones. With two convenient locations serving North and West Philadelphia, it is always our pleasure to be of service. For more information about our funeral, cremation, memorial, and repast services, please visit www.batchelorbrothers.com for more information.
Previous Posts
When returning to work after a loved one's passing, expect to encounter a complex blend of emotions. Grief is a deeply personal journey, and it's important to remember that there is no right or wr...