Digital Compassion: Seven Things to Know About Expressing Sympathies at a Virtual Funeral
Friday, March 18, 2022
Live streaming allows mourners to take part in memorial ceremonies at any time, from anywhere.
While the COVID-19 health crisis ushered in the dire need for virtual funeral solutions, other barriers to in-person attendance have long existed. Illness, aging, financial challenges, military duty, and scheduling conflicts are among the many things that can interfere with the ability to attend funeral events in person. When situations like these arise, live streaming offers the next best solution. Do you know the proper etiquette for attending virtual funeral services and expressing your condolences?
Here are some important things to keep in mind during these solemn occasions.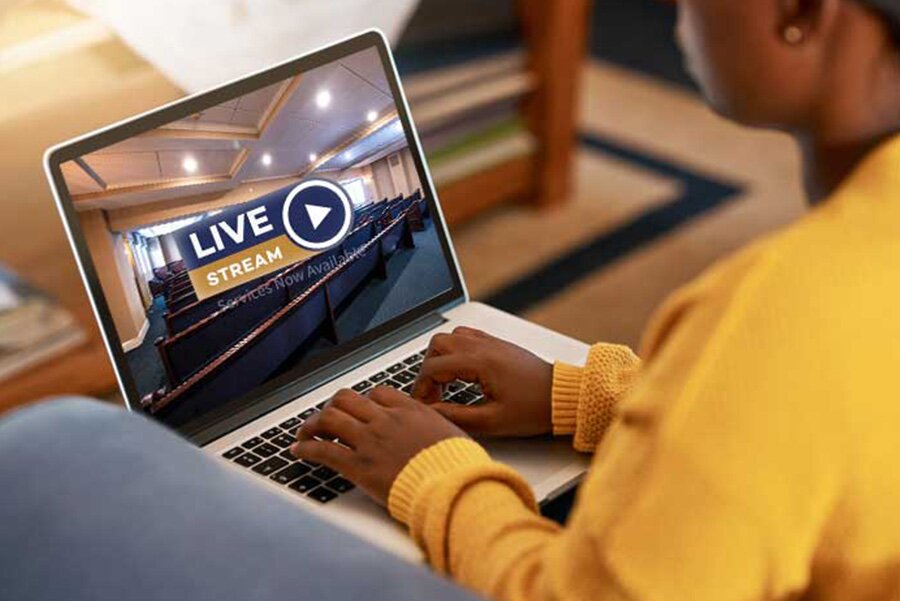 Download and test any required software well in advance.
The invitation should provide instructions on how to attend the virtual funeral. Zoom, for example, is often the preferred platform for digital events. Zoom is a free conferencing software that connects remote people with the ability to share screens, video chat, transmit audio, and send instant messages. If you are giving a speech or have a speaking role during the service, make sure you have the right audio and video gear so you can be properly seen and heard. Some funeral homes have their own proprietary live streaming platform that includes instructions for use.
Consider your surroundings.
If the virtual event is being conducted over Zoom or another interactive platform, make sure your environment is in order. A sloppy, chaotic background can be distracting to other funeral guests so tidy things up or use a virtual backdrop.
Dress appropriately for the event.
For virtual funeral services that are interactive, it is important to be presentable because you will likely be seen on camera. Your clothing choices can also communicate sympathy to those who are grieving, so demonstrate respect by dressing in an appropriate manner.
Promptness matters.
You won't need to worry about directions or parking, but it is still wise to get online at least five minutes before the live stream funeral starts. That allows you time to get situated, remove any distractions, and resolve any technical issues you may encounter.
Be mindful of children and pets.
Small children and pets may be distracting during a virtual funeral, so make arrangements to ensure that they will not disrupt the services. Plan accordingly so that you are situated in a quiet, private space until the service is over.
Share your sympathies before the service begins.
Although you are not attending the event in person, you should still offer your condolences in the comments section. Keep your comments brief and appropriate. This is not the time to tell jokes, catch up with other guests, or chat about personal updates. To avoid being a distraction to others, add your condolence message before the funeral starts.
Keep your device muted.
If you are a scheduled speaker for the funeral, be sure to remain on mute until it is your time to talk. Keeping your device muted eliminates distracting background noises that may interfere with other speakers. When you are talking, speak clearly and deliberately to accommodate slower internet connections.
It may not be feasible to physically attend the funeral service for a departed friend or family member but missing the opportunity to share a final goodbye can be heartbreaking. Using state-of-the-art secure software, digitally streamed funerals and memorial services allow for participation from anywhere in the world.
The compassionate professionals at Bachelor Brothers Funeral Services are here to assist you with every aspect of the funeral process, whether virtual or in-person. If you have questions or wish to make arrangements for a loved one, please reach out to us anytime.
About Batchelor Brothers Funeral Services: As a leading African American-owned and operated funeral and cremation organization, Batchelor Brothers Funeral Services has provided a ministry of care to thousands of grieving families. We promise to provide our highest level of distinguished service and respect to families who entrust us to honor their loved ones. With two convenient locations serving North and West Philadelphia, it is always our pleasure to be of service. For more information about our funeral, cremation, memorial, and repast services, please visit batchelorbrothers.com.
Previous Posts
When returning to work after a loved one's passing, expect to encounter a complex blend of emotions. Grief is a deeply personal journey, and it's important to remember that there is no right or wr...