Oh, My Aching Back! Seven Healthy Habits that Prevent and Ease Back Pain
Saturday, October 22, 2022
You might be surprised to learn that 80% of Americans will experience back pain in their lifetime.
Fortunately, simple self-help strategies can be effective at preventing and easing back pain.
If you suffer from back or neck pain, you know how agonizing it can be. It can take many forms, from dull aches to stabbing pains, and it has many causes. Back pain sometimes results from a sprain or accidental injury. It can stem from a medical condition such as arthritis, fibromyalgia, or spinal stenosis. The good news is that most lower back pain improves in a few days or weeks, and there are a number of things you can do to prevent it from recurring.
Start by adopting these seven healthy habits for your back.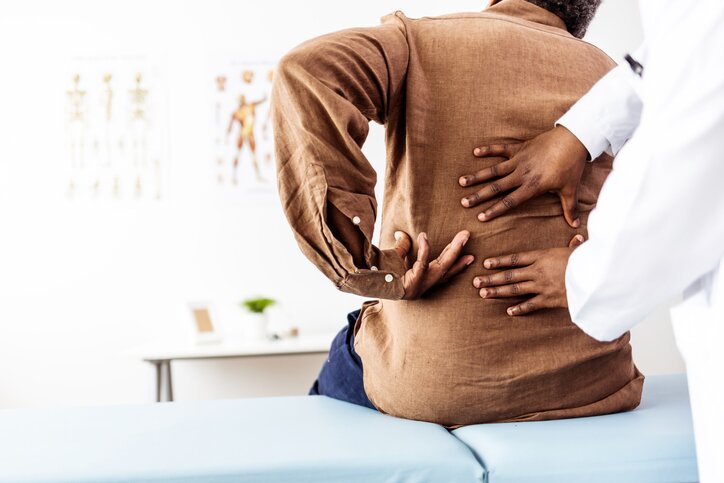 Watch your posture.
Poor posture is often the cause of back problems. Start with a posture check. Stand with your heels against a wall. Your calves, buttocks, shoulders, and the back of your head should touch the wall. You should be able to slip your hand behind the small of your back. Step forward, retaining this posture. Conduct a posture check several times per day until it becomes habitual.
Don't slump over your desk.
When sitting in an office chair, use the same good posture techniques you use when standing. This is especially important if you sit for many hours per day. Choose a quality ergonomic chair that provides firm support for your lower back and make sure your knees are slightly higher than your hips when you are seated.
Kick the habit.
Smoking poses many serious health risks, and back pain is among them. This is due to the nicotine in cigarettes, which restricts blood flow to the disks in the spine. It causes them to dry out, crack, or rupture. Smoking also reduces the amount of oxygen in the blood, reducing nourishment to muscles and tendons. These weaknesses make the back more vulnerable to accidental strains and pulls.
Lubricate joints with proper hydration.
When the body isn't adequately hydrated, any fluids consumed go to the brain first and then they travel to the joints. Not drinking enough water can cause the discs between the vertebra to become dry and brittle, leading to back pain. Drinking plenty of fluids and/or eating hydrating foods like watermelon and spinach helps lubricate joints and provides cushioning for the delicate bones in the spinal cord.
Reduce inflammation with a healthier diet.
Inflammation has become an increasingly common cause of back pain. Did you know that the foods you eat can contribute to unnecessary inflammation in the body? According to the Cleveland Clinic, the following foods are strongly linked to this issue: sugar; trans fats; processed foods; red meat; and refined carbohydrates. Keep inflammation at bay by limiting or avoiding these things altogether. Instead, fill your plate with fresh fruits and vegetables, whole grains, low-fat dairy, and lean proteins like fish or poultry.
Lift with care.
When lifting heavy objects, don't bend from the waist. Instead, bend your knees and squat, holding the object close to your body as you stand up. This allows your legs to do the lifting, not your back. When possible, push rather than pull heavy objects. Carrying a bulky laptop bag, suitcase, or a load of groceries can also cause back strain. Reduce the weight on your shoulders by carrying less, distributing it to both sides of your body, or shifting it from shoulder to shoulder. Consider using a rolling cart or bag with wheels for heavier loads.
Work your core.
The health benefits of exercise are well-known. A regular strength training routine that focuses on core muscles can reduce the risk of back-related injuries such as strains and muscle spasms. Incorporate back and abdominal strengthening exercises into your workout at least two times per week to develop a stronger, more flexible back.
Changing a few daily habits can help you ease or prevent back pain. Batchelor Brothers Funeral Services is pleased to offer valuable information and helpful resources for better health. If you have questions or if we can be of assistance in any way, please contact us.
About Batchelor Brothers Funeral Services: As a leading African American-owned and operated funeral and cremation organization, Batchelor Brothers Funeral Services has provided a ministry of care to thousands of grieving families. We promise to provide our highest level of distinguished service and respect to families who entrust us to honor their loved ones. With two convenient locations serving North and West Philadelphia, it is always our pleasure to be of service. For more information about our funeral, cremation, memorial, repast, and grief counseling services, please visit batchelorbrothers.com.
Previous Posts
When returning to work after a loved one's passing, expect to encounter a complex blend of emotions. Grief is a deeply personal journey, and it's important to remember that there is no right or wr...