Military Funerals: Six Creative Ideas for Honoring Your Departed Service Member
Tuesday, November 8, 2022
Transforming ordinary military funerals into highly personalized, meaningful occasions can be deeply healing.
When an active-duty service member or veteran passes away, a meaningful final salute is in order. These heroes have made tremendous sacrifices for our country and deserve to be celebrated in a special manner. Their patriotism and courage can be highlighted in a number of original ways beyond traditional military funeral honors.
Read on for six of our favorite ideas for unforgettable military funerals.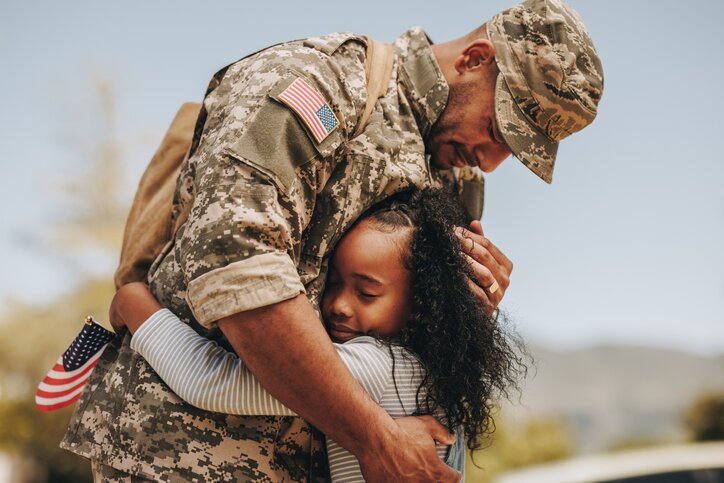 1. Incorporate military-themed elements.
Honoring your loved one's military service can extend throughout many aspects of the funeral or memorial service. From decorations that reflect specific branches of the service to funeral programs adorned with patriotic designs, there are many ways to subtly create an armed forces backdrop. You might recite military poems such as The Soldier's Prayer or play theme songs from your loved one's branch of service during the reception.
2. Create a special guest book.
Guest books are a tradition for most funeral services, but a beautiful armed forces book is sure to become a cherished keepsake. The design might reflect the essence of military service with authentic accents, such as fabric from a uniform or an American flag motif. This guest ledger is an ideal place for capturing the essence of your loved one, including dates of service and military photos, as well as recording the details of the funeral. If handicrafts aren't your strong suit, a wide variety of high-quality military guest books are available online.
3. Share fond service-related memories.
During the celebration of life ceremony or reception, guests are often invited to contribute their warmest memories of the departed and honor a life well-lived. These remembrances can be physical, digital, or a combination of the two. If others who served alongside the departed will be in attendance, ask them to provide photos or share stories from their time together in deployment. These images and anecdotes can provide added insight into your loved one's life and service to our nation.
4. Showcase military memorabilia.
Why not proudly display your loved one's medals, uniforms, and pictures from their time in the service? The exhibit could take a variety of formats. You could set up a memory table during visitation periods and at the repast, for example. Or, if the departed served in many places during their career, consider posting a map with push pins denoting the various deployment locations.
5. Hats off to their favorite hobbies.
Did your loved one have a special pastime? If they enjoyed painting, for example, your friends and family might create a portrait in their honor. Was your servicemember an avid sports fan? Decorate the reception venue with their favorite team's memorabilia and ask funeral guests to don the team colors. The options are endless for incorporating a person's passions and interests into their life celebration.
6. Recognize the importance of their home life.
It makes sense to highlight your loved one's amazing career in the armed forces. But as significant as those efforts are, their personal attributes and commitment to family should not be overlooked. Balancing an active military career and personal life is not an easy task. Showcasing the departed's devotion to family and friends is just as important as applauding their illustrious military career.
It takes great courage and selflessness to enlist in the military. However long your loved one's military service lasted—whether it was a few years or a long and storied career—there are many options for planning a touching military funeral that uniquely honors their life.
If you are seeking more creative ideas for honoring a veteran who has passed on, please contact our compassionate staff anytime. It is a privilege to assist you in creating the special final farewell your loved one so richly deserves.
About Batchelor Brothers Funeral Services: As a leading African American-owned and operated funeral and cremation organization, Batchelor Brothers Funeral Services has provided a ministry of care to thousands of grieving families. We promise to provide our highest level of distinguished service and respect to families who entrust us to honor their loved ones. With two convenient locations serving North and West Philadelphia, it is always our pleasure to be of service. For more information about our funeral, cremation, memorial, repast, and grief counseling services, please visit batchelorbrothers.com.
Previous Posts
When the weather turns frigid and the days grow short, it's a sure sign that cold and flu season is on the way. Winter is around the corner, signaling the battle cry against seasonal illnesses. It...