Coins on a Headstone Hold Special Meaning. Here's Why.
Sunday, December 18, 2022
Have you ever seen coins on a headstone? Leaving signs of remembrance on graves is a long-held tradition.
While flowers are the most common grave decoration, they aren't the only way to pay tribute to those who passed. Cultures and religious faiths worldwide each have their own traditions that harken back for hundreds and even thousands of years. In the Jewish faith, for instance, people leave stones. In Latin America, it's common to leave candles. A tradition that developed from U.S. military culture is the leaving of coins on a headstone.
Please read on to learn more about this fascinating custom and its many interpretations.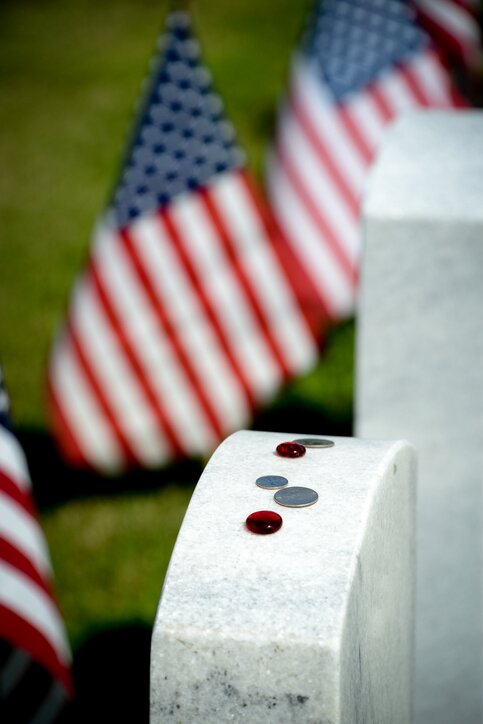 The meaning of coins on a headstone has evolved over time.
In ancient times, coins signified the preparation of departed loved ones for the afterlife. They were a bribe to ensure safe passage to the world of the dead. Over the years, the meaning behind this practice shifted. More recently, coins are left on military graves as a sign that living soldiers have visited the burial site to pay their respects. The practice has expanded and is considered a way for the general public to honor those who died in service to America.
For military members, the tradition is particularly rich and meaningful.
If you have ever visited Arlington National Cemetery, you have probably seen piles of shiny coins placed carefully on the graves of servicemen and women. According to tradition, there is a specific meaning behind each type of coin:
Penny: This symbolizes visitation. It is for those who have no formal relationship with the deceased but wish to honor their service and their family.
Nickel: A nickel is left by those who trained at boot camp with the departed.
Dime: In the case of a dime, it indicates service alongside the departed in some capacity.
Quarter: A quarter is a special symbol reserved for those who were with the departed when they passed.
This language of coins allows active servicemen and women to communicate with the families of those who served. It's essentially a way to pay respects without overstepping boundaries.
What happens to the coins that are left on graves?
The cemeteries, typically military cemeteries, collect the coins for a good purpose. They're used for cemetery upkeep and to help pay for the burial costs of other veterans. The service people who leave these coins understand they are contributing to these efforts, and it's one of the reasons the tradition has continued.
For non-military members, coins on a headstone are a symbol of honor.
Primarily, they are a way to pay respects and offer good luck to the departed. Why are coins (pennies in particular) a sign of luck? Ben Franklin might be at the center of this legend because he famously said, "A penny saved is a penny earned." Because of this famous quote about the importance of personal finance, visitors to his Pennsylvania gravesite developed the tradition of tossing pennies on his grave. Many have adopted this good luck tradition of tossing pennies into the graves of their loved ones. In other cultures outside of the United States, coins on a headstone are a practical solution because they are less expensive than flowers.
Today, people leave coins on a headstone as a sign of enduring respect. They demonstrate that the departed are appreciated and revered long after their passing.
The options are virtually endless when it comes to paying respects to the departed. If you have questions about these time-honored traditions or wish to make funeral arrangements, we are here to help. Please reach out to us anytime.
About Batchelor Brothers Funeral Services: As a leading African American-owned and operated funeral and cremation organization, Batchelor Brothers Funeral Services has provided a ministry of care to thousands of grieving families. We promise to provide our highest level of distinguished service and respect to families who entrust us to honor their loved ones. With two convenient locations serving North and West Philadelphia, it is always our pleasure to be of service. For more information about our funeral, cremation, memorial, repast, and grief counseling services, please visit batchelorbrothers.com.
Previous Posts
When the weather turns frigid and the days grow short, it's a sure sign that cold and flu season is on the way. Winter is around the corner, signaling the battle cry against seasonal illnesses. It...