During Cold and Flu Season, Follow These Smart Ways to Stay Healthy
Saturday, January 21, 2023
When everyone around you is sick, staying healthy can be a challenge. Fortunately, there are steps you can take to protect yourself and your loved ones.
The Centers for Disease Control and Prevention (CDC) reports that influenza contributes to tens of thousands of hospitalizations and deaths in the United States every year. While the virus spreads year-round, its peak activity is from December to February. With other respiratory viruses like COVID and RSV also in the mix these days, it's more important than ever to follow the most effective preventative measures.
Here are six proven ways to stay healthy throughout the winter flu season.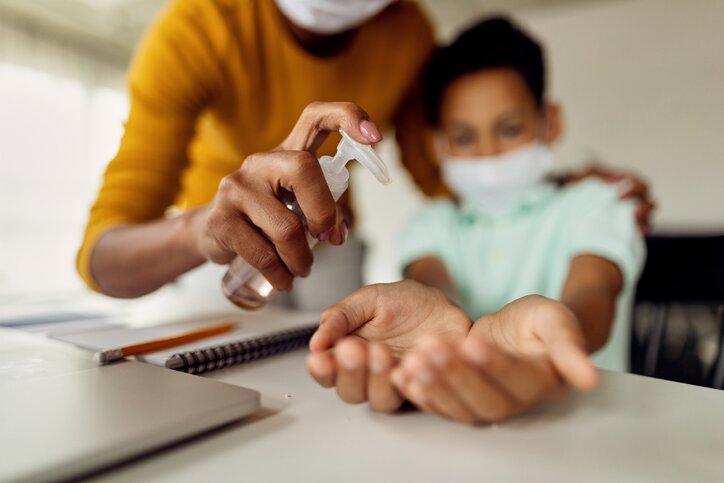 Wash your hands the right way.
Frequent, thorough hand washing is one of the best forms of protection during cold and flu season. To get the greatest benefit, wash your hands with soap under warm running water for at least 30 seconds. Pay special attention to the spaces between the fingers and underneath the fingernails.
Liberally apply hand sanitizer.
If you don't have access to a sink and soap, the next best way to cleanse dirty hands is by using a hand sanitizer that contains at least 60 percent alcohol. Be sure to cover the entire surface of the hand and palm, concentrating on the nails and between the fingers. Most importantly, ensure that the product is allowed to dry completely to fully kill the germs.
Avoid touching your face.
Even though you may be diligent about keeping your hands clean, microorganisms and bacteria are lurking everywhere. The CDC recommends making a concerted effort to keep your hands away from your eyes, nose, and mouth, where germs often invade the body.
Regularly clean and disinfect shared items.
Viruses can remain alive for up to 24 hours on certain surfaces, so it's wise to thoroughly cleanse objects that are frequently touched by others in your household, such as:
Tables and desks
Light switches
Countertops
Faucets and toilet handles
Doorknobs
Car door handles and steering wheels
Digital equipment such as keyboard and remote controls
The CDC says that typical cleaning products containing chlorine, hydrogen peroxide, detergents, iodophors (iodine-based antiseptics), and alcohols are effective in killing the virus.
Open the windows a crack.
If you're in close quarters with others, let in some fresh air. People may get sick more often during colder months due to the extended time spent in spaces with poor air circulation. If possible, aerate your living area by slightly opening a window for short periods of time.
Stock up on masks and gloves.
When you must be indoors with an ailing loved one, wear a well-fitting paper mask like a KN95 or N95. Consider wearing disposable gloves when cleaning up contaminated items such as tissues, towels, and dishes.
The general principles of healthy living—staying hydrated, getting enough sleep, and eating plenty of fruits and vegetables—should be followed all year long. Keeping your resistance up will help you fend off illnesses when you are exposed to them.
Staying healthy gets easier when you have the right information. If you need additional resources or if you have questions about how to avoid winter illnesses, we are here to help. Please contact our caring professionals anytime.
About Batchelor Brothers Funeral Services: As a leading African American-owned and operated funeral and cremation organization, Batchelor Brothers Funeral Services has provided a ministry of care to thousands of grieving families. We promise to provide our highest level of distinguished service and respect to families who entrust us to honor their loved ones. With two convenient locations serving North and West Philadelphia, it is always our pleasure to be of service. For more information about our funeral, cremation, memorial, repast, and grief counseling services, please visit batchelorbrothers.com.
Previous Posts
Going through a loved one's belongings after they have passed away is often difficult but you can make the process easier. Just as there is no right way to grieve, there is no specific time that y...