Do You Know the Rules for Legally Scattering Ashes?
Saturday, March 18, 2023
As more and more people choose cremation, questions about legally scattering ashes are on the rise, too.
Ash scattering has become an increasingly popular way to remember the departed. It provides families with a unique way to celebrate their loved one in a place that was special to them during their lifetime. As beautiful and meaningful as these final acts of love may be, it is important to proceed with caution. Each state has its laws on ash scattering, and in the case of scattering ashes over water, federal law may take precedence. As part of your planning process, check local and state laws and familiarize yourself with any federal laws that may apply.
Please read on for an overview of common laws relative to ash scattering.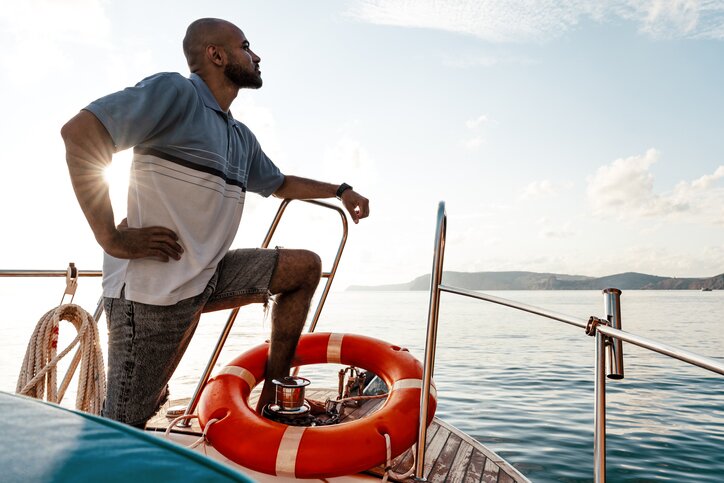 Spreading ashes at sea is a timeless way to memorialize the departed.
Ocean burials can be a poignant and healing way to lay a loved one to rest, especially if they had a special fondness for the water. The Environmental Protection Agency (EPA) regulates burials and ash scatterings at sea to preserve the health and safety of our oceans. The rules are simple but it's important that you educate yourself on the details and adhere to them. Here are the basics:
Before scattering ashes at sea, you must be at least three nautical miles from the shore. The depth of the water does not matter.
Only decomposable items can be scattered on the water. This includes any scattering urns, wreaths, etc. Many florists offer water-safe wreaths that readily decompose. Don't use a regular wreath as it likely contains plastic and metal wires that will wind up as litter and could harm marine life. Individual cut flowers are acceptable for scattering.
Notify the EPA within 30 days of scattering ashes at sea. No documentation is needed and the EPA has created a simple online tool to assist with the notification process.
There are no fees or applications required for scattering ashes at sea.
If you wish to scatter ashes in Pennsylvania, you have many options.
Pennsylvania offers an array of breathtaking scenery, ranging from rolling hills to quaint towns to majestic mountains. With so much natural beauty available, the locations that may be fitting for scattering a loved one's ashes are endless. A ceremony accompanying the scattering can be a meaningful way to remember and reflect on your loved one. Here are some common locations families choose to scatter ashes in Pennsylvania and the laws that apply to each:
At your home/on private property: Pennsylvania has no state laws restricting you from scattering ashes in your yard or on other property you own. However, if you want to scatter the ashes on property owned by someone else, you must get their permission first.
Scattering gardens: With the growing number of people in Pennsylvania electing to be cremated, many memorial parks, cemeteries, and churches throughout the state have designed scattering gardens on their properties where families can scatter a loved one's ashes. If this is of interest to you, your funeral director can assist you in finding a location in your area.
Public land: There are no state restrictions on scattering ashes on public land in Pennsylvania. However, if you wish to do so, it's recommended to check with city or county offices to see if any local regulations are in place.
Federal land: Most national parks allow the scattering of ashes but permission must be granted first. Each national park has its own unique set of regulations related to ash scattering, so call the park ranger's office or do some online research about the park in question.
From the sky: In Pennsylvania, no laws restrict scattering a loved one's ashes from a plane. However, the urn or container used to hold or scatter the ashes cannot be dropped. U.S. federal aviation law prohibits dropping anything from the sky that could cause harm to people or property. If you wish to have your loved one's ashes dropped from an airplane, many companies provide this service.
When it comes to ash scattering, use common sense and good judgment. Ask for permission before scattering on private property. Check with your local jurisdiction for any additional regulations. Be considerate of others when scattering your loved one's ashes.
If you are unsure about where you want to scatter your loved one's remains, do not worry. Take as long as you wish to make this decision. Our caring professionals are here to answer any questions you may have and to offer an array of helpful resources. Please reach out to us anytime.
About Batchelor Brothers Funeral Services: As a leading African American-owned and operated funeral and cremation organization, Batchelor Brothers Funeral Services has provided a ministry of care to thousands of grieving families. We promise to provide our highest level of distinguished service and respect to families who entrust us to honor their loved ones. With two convenient locations serving North and West Philadelphia, it is always our pleasure to be of service. For more information about our funeral, cremation, memorial, repast, and grief counseling services, please visit batchelorbrothers.com.
Previous Posts
When returning to work after a loved one's passing, expect to encounter a complex blend of emotions. Grief is a deeply personal journey, and it's important to remember that there is no right or wr...