May is Stroke Awareness Month. Knowing The Warning Signs Could Save Your Life.
Monday, May 8, 2023
This year, recognize Stroke Awareness Month by learning more about stroke prevention and detection.
When it comes to strokes, every second counts! Nearly two million brain cells die each minute a stroke remains untreated. Rapid access to medical treatment can mean the difference between full recovery and permanent disability. Education is vital to knowing how to identify when you or a loved one might be experiencing a stroke. Using information from the Centers for Disease Control (CDC) and the American Heart Association, we have compiled some important stroke statistics and warning signs that everyone should know. This year, we encourage you to honor National Stroke Awareness Month by learning more about this leading cause of disability in the United States.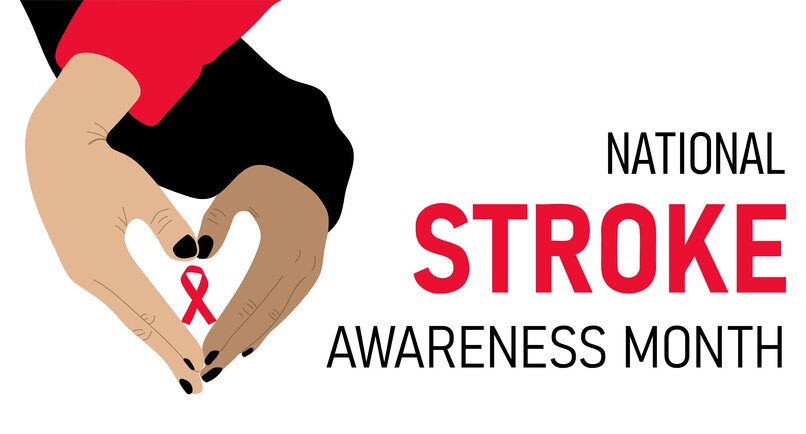 Ten Stroke Facts That May Surprise You
Every 40 seconds, someone in the United States has a stroke.
Every 3.5 minutes, someone dies of a stroke.
Each year, more than 795,000 people in the United States have a stroke. About 610,000 of these are first or new strokes.
80% of strokes are preventable.
Stroke is a leading cause of death for Americans, but the risk of having a stroke varies with race and ethnicity.
The risk of having a first stroke is nearly twice as high for black Americans as for white Americans, and black Americans have the highest rate of death due to stroke.
Stroke is a leading cause of serious long-term disability. Stroke reduces mobility in more than half of stroke survivors age 65 and older.
Stroke risk increases with age, but strokes can and do occur at any age.
In 2021, 38% of people hospitalized for stroke were less than 65 years old.
High blood pressure, high cholesterol, smoking, obesity, and diabetes are leading causes of strokes. One in three U.S. adults has at least one of these conditions or habits.
What is a stroke?
Strokes affect the arteries leading to and within the brain. They occur when a blood vessel that carries oxygen and nutrients to the brain is either blocked by a clot or bursts. When that happens, part of the brain cannot get the blood and oxygen it needs, so those brain cells die. If a blood flow can't reach the region that controls a particular body function, that part of the body will no longer be able to work as it should. A stroke can be caused by a clot obstructing the flow of blood to the brain (ischemic stroke) or by a blood vessel rupturing and preventing blood flow to the brain (hemorrhagic stroke). A TIA (transient ischemic attack), or "mini-stroke", is caused by a temporary clot and may be a precursor to a more severe stroke.
Take action quickly.
Learn the warning signs and symptoms of stroke so that you can act fast if you or someone you know might be having one. The chances of survival are much greater when emergency treatment begins immediately. Research shows that patients who arrive at the emergency room within three hours of their first stroke symptoms often have less disability than those who did not receive immediate care.
F.A.S.T. is an acronym to help you recognize the signs of stroke.
Face: One side of the face droops when the person smiles
Arms: One arm drifts downward when both arms are raised
Speech: Speech is slurred or otherwise peculiar
Time: Call 911 immediately if you notice any of these symptoms
Watch for these possible symptoms too.
A sudden, severe headache
Sudden dizziness, loss of balance or coordination
Loss of vision or changes to your vision in one or both eyes, which usually happens suddenly
Feeling confused or having trouble understanding things that are usually easy for you
Numbness or weakness on one side of the body (or in one arm or leg)
Thank you for your interest in observing Stroke Awareness Month by learning about prevention and detection. If you need additional resources or want more information about strokes, we are here to assist you. Please contact us anytime.
About Batchelor Brothers Funeral Services: As a leading African American-owned and operated funeral and cremation organization, Batchelor Brothers Funeral Services has provided a ministry of care to thousands of grieving families. We promise to provide our highest level of distinguished service and respect to families who entrust us to honor their loved ones. With two convenient locations serving North and West Philadelphia, it is always our pleasure to be of service. For more information about our funeral, cremation, memorial, repast, and grief counseling services, please visit batchelorbrothers.com.
Previous Posts
When the weather turns frigid and the days grow short, it's a sure sign that cold and flu season is on the way. Winter is around the corner, signaling the battle cry against seasonal illnesses. It...