Fall Funeral Considerations to Help You Plan the Perfect Final Farewell
Friday, October 6, 2023
Although fall funeral planning presents some unique challenges, it also offers a wealth of special opportunities.
Fall is a season of change and transition, making it a fitting backdrop for a meaningful and memorable final farewell. If the departed was particularly fond of the fall season, it can add an extra sentimental element to a poignant day.
In this blog, we will explore eight clever ideas to help you plan the perfect fall funeral for your loved one.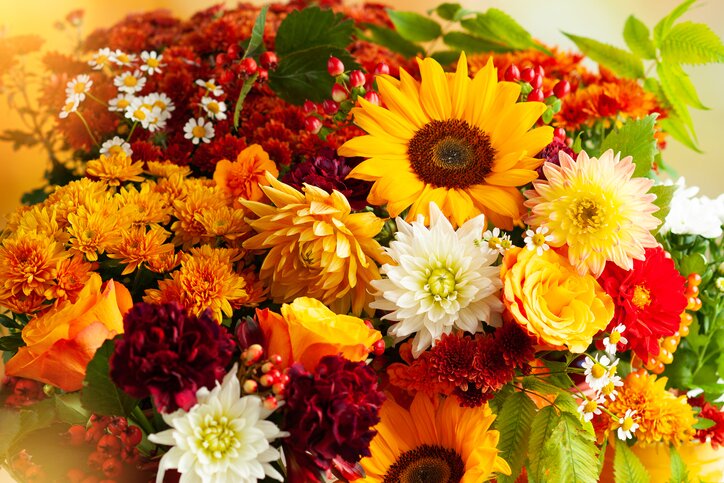 Choose the Right Venue
Try to select a venue that captures the essence of fall. Consider outdoor locations like parks, gardens, or a serene lakeside setting. Alternatively, an indoor venue with large windows can allow guests to enjoy the fall foliage while staying warm and comfortable.
Embrace Autumn Colors
Incorporate warm, autumnal colors into your funeral decor. Think deep reds, oranges, and rich browns. These colors evoke feelings of comfort and nostalgia, creating a soothing atmosphere.
Weather Considerations
Inform attendees about the expected weather conditions so they can dress appropriately. You might suggest wearing layers to accommodate temperature fluctuations, or wearing suitable outer gear if inclement weather is predicted. Always have a contingency plan in case of severe weather. This might involve securing an indoor backup location or providing umbrellas for guests, for example.
Autumnal Floral Arrangements and Decorations
Opt for seasonal flower arrangements that highlight fall blooms like colorful chrysanthemums, sunflowers, and marigolds. These fall flowers add beauty while also symbolizing warmth and remembrance. As you select decorative items for the viewing, funeral, or memorial service, look for items that reflect the fall season, such as themed picture frames, seasonal garlands, and scented candles in fragrances like pumpkin or cinnamon.
Fall-Inspired Keepsakes
Consider offering guests fall-themed keepsakes like personalized candles, engraved acorns, or autumn leaf bookmarks. These mementos can serve as a tangible reminder of the time you spent together honoring your loved one.
Weather-Resistant Outdoor Décor
If you plan to have any outdoor elements such as a graveside service, choose weather-resistant decor that can withstand rain or wind so it won't disrupt the ceremony. Wind-resistant balloons, sturdy easels, and outdoor rugs can all be helpful tools when the weather is questionable.
Harvest-Inspired Menu
Embed fall into your fare with tasty seasonal favorites. For example, you might serve warm cider, hearty stews, or pumpkin pie to grieving guests. If your loved one had any favorite autumnal foods, consider including them in your menu.
Autumnal Commemorations
Arrange seasonal activities that honor your loved one in a special way. You might organize a lantern release, a bonfire or candle lighting with shared stories, or a symbolic scattering of leaves.
The most important aspect of fall funeral planning is to ensure that it reflects the personality and preferences of your loved one. As you consider these suggestions, feel free to personalize them to create a unique and heartfelt farewell. Our compassionate, experienced funeral directors can assist you in implementing your ideas and help you navigate the logistics during this challenging time.
A fall funeral can be a beautiful and meaningful way to say goodbye to a departed loved one. If you have questions or would like additional ideas for a funeral or memorial service, we would be honored to assist you. Please contact us anytime.
About Batchelor Brothers Funeral Services: As a leading African American-owned and operated funeral and cremation organization, Batchelor Brothers Funeral Services has provided a ministry of care to thousands of grieving families. We promise to provide our highest level of distinguished service and respect to families who entrust us to honor their loved ones. With two convenient locations serving North and West Philadelphia, it is always our pleasure to be of service. For more information about our funeral, cremation, memorial, repast, and grief counseling services, please visit batchelorbrothers.com.
Previous Posts
When the weather turns frigid and the days grow short, it's a sure sign that cold and flu season is on the way. Winter is around the corner, signaling the battle cry against seasonal illnesses. It...