Smart Ways to Add More Fruits and Vegetables to Your Diet
Sunday, June 17, 2018
Research has shown that diets rich in fruits and vegetables are associated with a lower risk for heart disease.
But the hard facts also tell us that less than 30% of Americans are meeting the recommended "Five a Day" threshold. There are plenty of ways to add more produce to your diet, especially during the summer months. Right now, locally-grown fruits and vegetables are abundant and readily available. That means they're also more affordable and at their peak of freshness. Try these easy ways to add more produce to your diet this summer: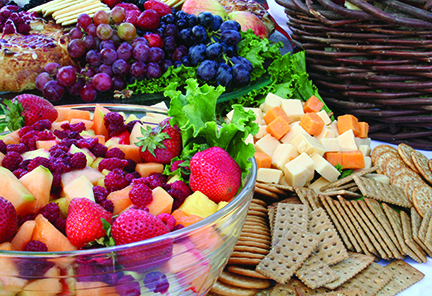 Top proteins with sautéed vegetables. Instead of topping cooked fish, meat, poultry with a sauce, use sautéed vegetables, such as peppers, onions and tomatoes. They'll add plenty of flavor and nutrients while boosting portion size without adding a lot of calories.
Replace carbs with vegetables. If you love cheesy mashed potatoes but not all the calories they deliver, replace some of the starchy potatoes with vegetables such as cauliflower or broccoli. You'll get fewer calories and more disease-fighting antioxidants. Another twist on this trick: replace some of your pasta with veggies like spiralized zucchini.
Choose quick, easy meals. In the heat of summer, your body craves raw or lightly cooked food. Whip up a supersized salad or some cool gazpacho.
Dig the dip. We get it. Not everyone gets excited when they look at a plate of raw vegetables. But pair them with a nutty hummus, zesty ranch, creamy avocado, or fiery salsa and now we're talking.
Whip up a smoothie. Combine a cup of milk or yogurt, a banana, ½ cup of berries, and some ice in your blender for a tasty, refreshing breakfast or snack.\
Bulk up your burgers. Try adding carrot purée or chopped mushrooms to ground beef recipes. From hamburgers to meatloaf, adding some veggies can add flavor, fiber, and nutrition.
Tasty, fresh produce is available in many varieties during the summer months. This wide array of options makes it easy to enjoy a light, plant-based diet that can keep your heart healthy and your waistline slim.
About Batchelor Brothers Funeral Services: As a leading African American-owned and operated funeral and cremation organization serving three states, Batchelor Brothers Funeral Services has provided a ministry of care to thousands of grieving families. We promise to provide our highest level of distinguished service and respect to families who entrust us to honor their loved one. In all aspects of the funeral process, we strive to be the absolute best and are honored to help preserve our clients' legacies for future generations. For more information, please call us at 215-549-4700 or visit us online at www.batchelorbrothers.com.
Previous Posts
When returning to work after a loved one's passing, expect to encounter a complex blend of emotions. Grief is a deeply personal journey, and it's important to remember that there is no right or wr...