Smart Solutions for Senior Home Safety
Friday, May 17, 2019
According to a recent AARP survey, the majority of adults approaching age 65 plan to age-in-place, even in the face of health problems. To achieve this, seniors living alone will need to take an honest look at the realities of growing older.
The truth is, we all experience inevitable physical, mental, and emotional changes as we age. Over time, seniors who age in their own homes typically require increasing support from healthcare professionals, family members, friends, and neighbors. When these caretakers can't be there, seniors living alone may need backup support and smart home devices are poised to provide it. By embracing these amazing new technologies, seniors can expand the window of time that they can live independently while also providing some respite for weary caregivers.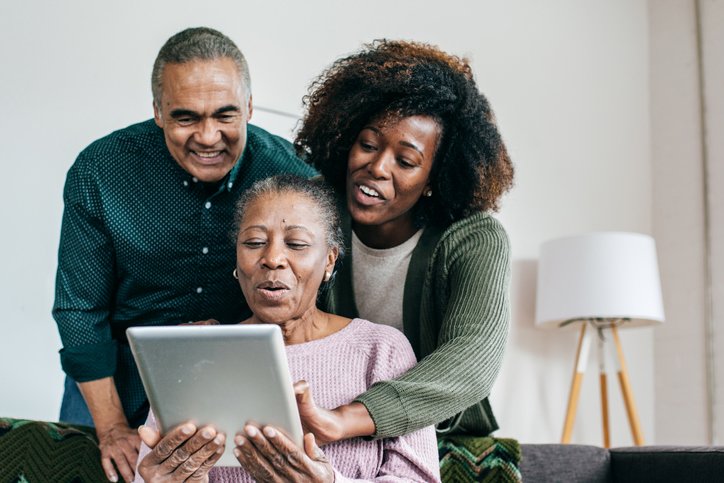 Although there are many helpful smart home devices on the market today, getting seniors to embrace them presents a challenge. The digital divide can affect older adults' ability to afford—and their willingness to adopt—new technologies. Fortunately, there's hope on the horizon. Organizations such as Everyoneon are working to bring low-cost internet connection, computers, and digital literacy training to those in need. Many of the partnering companies offer no-contract internet services at a steep discount. The offer locator tool lists resources in or near your loved one's community. The federal program Lifeline is another option to lower the monthly phone or internet costs for qualifying households. These services and others like them are helping to bridge the digital gap for tech-resistant seniors living on fixed incomes.
If you are a caregiver who is overwhelmed by the various home device options, think in terms of which problems you need to solve. From there, you can find the devices or devices that will provide the best solution. To convince a senior loved one to try a new tool, focus on the benefits the smart home products will provide rather than the technology itself. Embracing smart home technology can provide you with peace of mind while enabling your loved one to live independently for longer. Below are some smart home devices that can make aging-in-place more viable for seniors and their caregivers.
Whole Home Safety
Smart speakers, such as Amazon Echo, Google Home, and Apple HomePod, provide anytime voice-activated assistance. These speakers are ideal for seniors who have vision, memory, or mobility issues. Smart speakers come pre-loaded with virtual voice assistants Alexa (Amazon), Siri (Apple), and Google Assistant (Google). Use voice commands to have your assistant provide medication reminders, read the weather forecast, or to control any other connected devices, such as smart thermostats, smart lights, or smart locks. Caregivers can sync their same devices up to communicate with their loved ones. For a smart speaker/smart home hub that won't break the bank, try the Amazon Third Generation Echo Dot or Google Home Mini.
Front Door Safety
Key Finders
Attach the location device to keys, medication, or other important but easy-to-misplace items and find their precise location, quickly. A companion app allows caretakers to help seniors locate missing items. Quality key finders can be found for under $30. Try the Tile Pro or Tile Mate. Both offer a good range, reliable performance, loud signals, and a replaceable battery that lasts up to one full year.
Smart Security Systems
Seniors are particularly vulnerable to certain types of crime, including home invasions and burglaries. A smart home security system can provide extra security, as well as peace of mind for caregivers and family members. The EZViz Mini O 1080p is one of the most affordable smart home security systems, making it a great option for seniors. It has a wide-lens, motion sensors, night vision, and an intercom so friends and family members with connected devices can keep in touch. This device also sends a picture-based alert to select caregivers when the motion sensors are tripped.
Smart Door Locks
Smart door locks can also improve home security. Seniors with memory-impairing conditions, such as dementia and Alzheimer's, can harm themselves while wandering from home. Door locks with smart capabilities provide peace of mind for caregivers living with a senior with dementia. Smart locks can track when a door is unlocked or locked during a set time, such as when the caregiver is asleep. There are a variety of smart locks on the market with varying capabilities, such as automatic locking, remote locking and unlocking via smart devices, alerts, and video capabilities.
Bathroom Safety
Fall Monitors
Bathrooms remain the most dangerous room in the home. Seniors can slip and not receive help for hours or even days. Smart devices with internal fall monitors can get help out sooner. LifeFone's light-weight, waterproof necklace comes with a two-way speaker and a has a built-in wireless network connection, so seniors don't need to have their own cellular service. The fall monitor can be had for an additional $5/month. Contract-free plans start as low as $39.99/month and include a price lock guarantee, so there are no surprises.
Kitchen Safety
Smoke Detector Smart Battery
Cooking fires are the number one cause of home fires. With the Roost Smart Battery, turn an existing smoke alarm into a smart alarm for around $35. This smart battery lasts for 3-5 years and sends alerts to friends and family members whenever the smoke alarm goes off. If a sensitive smoke alarm is an issue, there is a convenient silence button that can quickly cancel the alert. Note that an existing battery-operated smoke detector is required.
Bedroom Safety
Smart lighting
Navigating a dark room can lead to life-threatening falls. With smart light switches, fumbling for lamps or regular light switches in the dark can be a thing of the past for your senior loved one. Smart lighting can be turned on and off or dimmed using a connected smart device or by voice commands via a smart hub. Smart light switches provide illumination when it's needed. Try the Decora Smart Home Dimmers and Switches by Leviton for an affordable, user-friendly option.
Smart devices can help caregivers keep tabs on loved ones while respecting their autonomy. If you have questions about smart devices or other ways to keep your loved one safe while they age-in-place, please contact us. Our caring staff is always ready to assist.
About Batchelor Brothers Funeral Services: As a leading African American-owned and operated funeral and cremation organization serving three states, Batchelor Brothers Funeral Services has provided a ministry of care to thousands of grieving families. We promise to provide our highest level of distinguished service and respect to families who entrust us to honor their loved one. In all aspects of the funeral process, we strive to be the absolute best and are honored to help preserve our clients' legacies for future generations. For more information, please call us at 215-549-4700 or visit our website.
Previous Posts
When the weather turns frigid and the days grow short, it's a sure sign that cold and flu season is on the way. Winter is around the corner, signaling the battle cry against seasonal illnesses. It...