Senior Loneliness: Why Isolation is Bad for Our Aging Loved Ones
Sunday, May 26, 2019
Loneliness is wreaking havoc on America's senior population. A 2017 study from the University of California, San Francisco (UCSF) revealed that nearly half of the seniors in the U.S. regularly experience loneliness. This feeling of disconnection from others can trigger serious health physical and mental health problems, and even death, the UCSF researchers found. The senior loneliness health statistics are alarming:
· Loneliness increases the likelihood of mortality by 26%.
· Lacking social connections is as damaging to health as smoking 15 cigarettes a day.
· Coronary bypass patients who report feeling lonely have a mortality rate that's five times higher than other patients.
· Lonely individuals have a 64% increased chance of developing clinical dementia.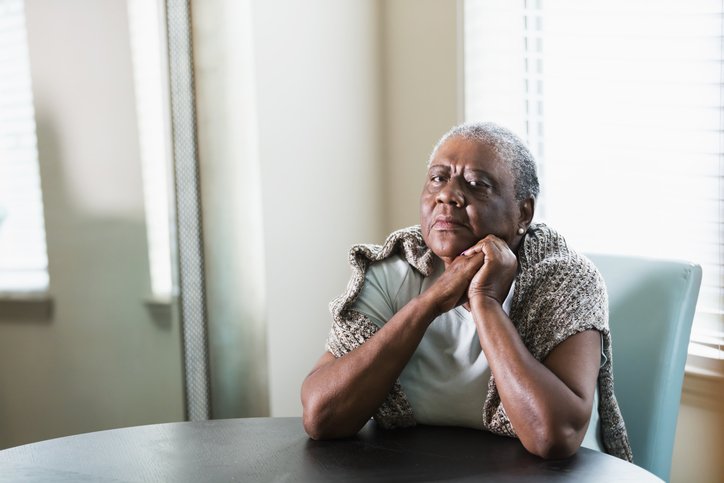 Spotting the signs of social isolation is an important first step in reducing senior loneliness. Social circles grow smaller as the years go by. Spouses, family members and friends often move to senior communities, skilled nursing facilities, or pass away. Aside from having no local network of family and friends, seniors may withdraw into isolation for other reasons. They may be despondent from recent losses of loved ones and friends. Perhaps they feel alienated or embarrassed as a result of chronic health conditions or mobility issues. A fear of falling or of driving keeps many seniors confined to their homes. Loss of hearing or vision, common with aging, may increase feelings of disconnection with others. They key to addressing loneliness is by listening, observing, and encouraging your aging loved ones to share what they're thinking and feeling. A workable plan can then be put in place to help them feel happier and more connected to others.
So how can you alleviate loneliness in your elderly loved ones? Here are some easy things you can do to help:
Keep them active. Research shows that physical activity offers significant health benefits for aging persons. Gentle exercises such as walking and stair climbing can help a senior to retain their physical, mental, and emotional faculties. Group exercise class like tai chi or walking clubs offer the added advantage of interaction with like-minded peers.
Check out community resources for seniors. Most towns have senior centers that offer ample opportunities for social interactions and making new friends. Entertainment, events and communal games are typically offered. If your aging parent is reluctant, accompany him or her to a couple of activities. Making new connections may very well turn a shy, lonely elder into a happier one.
Demonstrate your love. We all want to feel loved, and knowing they are important can help to keep an elderly person's feelings of isolation and depression at bay. Tell your aging family members how much you love and need them. Be an attentive listener and don't forget to hug them often.
Watch out for sleeping problems. Many seniors who live alone are prone to sleep difficulties, which can aggravate depression and loneliness. Do your best to ensure that your older loved one sticks to a regular sleep schedule and doesn't take daytime naps.
Encourage volunteering. Volunteering allows people of all ages to meaningfully contribute to the lives of others, which can provide a renewed sense of purpose and worth. That's why it makes a great activity that you can do with your loved one. The volunteering doesn't need to be difficult or demanding. Depending on the health of your senior family member, options might include the local library, animal shelter, hospital or place of worship. In every corner of the country there are needs that aren't being met, and older adults can easily help to fill those shortfalls.
Arrange transportation. One of the biggest challenges for many seniors is transportation. Eyesight is no longer keen, hearing becomes impaired, and reflexes get slow. They may voluntarily choose to stop driving or be forced to do so. And while this may make the roads safer for themselves and others, it can prevent them from being with family and friends, exacerbating feeling of loneliness. One of the most effective ways you can help the older adult in your life is by making transportation available to them. If you live nearby, offer to regularly drive them to and from various social functions. You could also create a network of family, friends and neighbors who are willing to occasionally drive them to appointments and events. Community and senior centers may also offer transportation services. Do some investigating to create a workable plan for transport.
Visit regularly. If your elderly loved one lives alone, be sure to call them regularly and visit often. If your family member has been placed in an assisted living home, one of the best ways to improve their feelings of loneliness is to visit them frequently and simply spend time with them. This will also give you peace of mind by assessing their living situation.
We all experience loneliness at times, but it's especially challenging for our aging loved ones. With our busy, independent lives, we tend to forget that it's not easy for them to reach out or to get out of the house when the mood strikes. Loneliness and isolation can create health problems, a sense of purposelessness, depression, and a host of other issues. Fortunately, there are plenty of actions that can be taken to ensure the seniors in your life don't experience these feelings.
Do you need more information about combatting the senior loneliness epidemic? Our compassionate staff is always here to offer our assistance. Please reach out to us anytime.
About Batchelor Brothers Funeral Services: As a leading African American-owned and operated funeral and cremation organization serving three states, Batchelor Brothers Funeral Services has provided a ministry of care to thousands of grieving families. We promise to provide our highest level of distinguished service and respect to families who entrust us to honor their loved one. In all aspects of the funeral process, we strive to be the absolute best and are honored to help preserve our clients' legacies for future generations. With three convenient locations serving both North and West Philadelphia, as well as Trenton and Drexel Hill, it is always our pleasure to be of service. Please visit our website for more information.
Previous Posts
Going through a loved one's belongings after they have passed away is often difficult but you can make the process easier. Just as there is no right way to grieve, there is no specific time that y...