How to Host the Perfect Funeral Reception without Breaking the Bank
Wednesday, September 18, 2019
It's customary to host a reception following a funeral or memorial service. This event gives mourners the chance to support each other, share fond memories, and celebrate the life of the deceased. The repast can range from a lavish banquet at an upscale restaurant to simple punch and cookies in the church hall.
There are no hard and fast rules for orchestrating this post funeral function, so it's up to you to decide what your budget can accommodate and what you think your loved one would have wanted. Even if your funds are limited, there's no shortage of ways to organize a repast that's memorable, beautiful and deeply personal.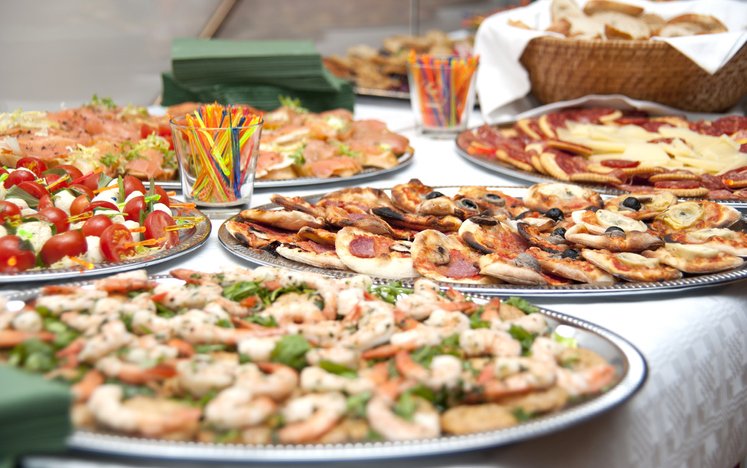 Where should you host the repast? When thinking about the venue for the reception, it's important to consider how many people might attend. The most common locations are at the home of a relative of close friend, a church or banquet hall, or in a designated reception room at the funeral home. Local restaurants are another popular choice because they reduce the amount of meal preparation required and they offer a wide range of prices and menu options. If the weather permits, parks or other outdoor locations can offer a scenic natural backdrop for your event.
What should you serve? When you think of food and drinks for the funeral reception, your culture, location, and family traditions can all come into play. Maryland is famous for blue crabs, so you probably can't go wrong by serving up some tasty crab cakes. They can get pricey, though, so you could opt for small appetizer-sized portions, along with some hearty casseroles or deli trays and potato salad. Did your loved one have a favorite food or drink? If your budget allows, offering his or her preferred fare is a clever way to personalize the event. It's also not uncommon to ask close friends and family to provide a dish for the repast meal. If you're hosting the reception at a restaurant, consider offering a limited menu or a buffet-style meal to keep the cost down. Regardless of what you choose for the menu, you want food that will be economical, comforting, easy to prepare, and easy to eat. Above all, it's important to remember that the purpose of the funeral repast is to give guests the opportunity to gather together to support each other and to share their memories of the deceased. No one will be expecting an opulent extravaganza.
How can you personalize the event? You can foster interaction and make the reception more meaningful by including special touches that bring to mind your loved one. There are many inexpensive and easy ways to do this, such as:
If the deceased was a collector, displaying some special items from his or her personal collection on a memory table
Arranging a group activity, such as a candle lighting or playing your loved one's favorite game
Offering an open microphone so that guests can share a fond memory
Creating a tribute video to display during the meal
While you may feel that you shouldn't be concerned with the finances of the post funeral reception, they can be substantial. As when planning any large gathering, it's wise to decide how much you can comfortably afford and then select options that are appropriate for your budget. Above all, avoid over-extending yourself physically and financially. If you need additional information about planning a memorable repast for a loved one, please reach out to our caring, supportive team.
About Batchelor Brothers Funeral Services: As a leading African American-owned and operated funeral and cremation organization serving three states, Batchelor Brothers Funeral Services has provided a ministry of care to thousands of grieving families. We promise to provide our highest level of distinguished service and respect to families who entrust us to honor their loved one. In all aspects of the funeral process, we strive to be the absolute best and are honored to help preserve our clients' legacies for future generations. With three convenient locations serving both North and West Philadelphia, as well as Trenton and Drexel Hill, it is always our pleasure to be of service. Please visit our website for more information.
Previous Posts
When the weather turns frigid and the days grow short, it's a sure sign that cold and flu season is on the way. Winter is around the corner, signaling the battle cry against seasonal illnesses. It...