The Protocol for Funeral Processions: Ten Things You Should Know
Sunday, March 8, 2020
A key part of good funeral etiquette involves following the protocols for the procession. Even if you've never participated in one, chances are that you've seen a funeral procession—also known as a cortege—and you may have wondered how you should react. Here are ten important things to know about funeral procession etiquette for participants and other motorists.
If You're Participating in a Funeral Procession
When arriving at the funeral home or church for the service, funeral attendants will be waiting to provide parking instructions. Vehicles that will be driven in the funeral procession are usually parked in bumper to bumper rows. Anyone not driving in the procession will be directed to park in another area.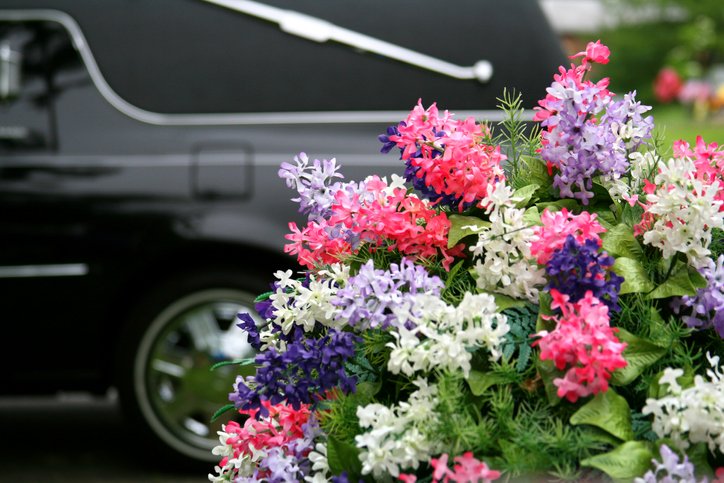 Keep these things in mind:
Processions cars are parked in the order in which they arrive. If you're a family member or close friend and will be driving your own vehicle in the procession, plan to get there early. By arriving 30 to 45 minutes before the funeral begins, you'll ensure that your vehicle will be positioned at the front of the line.
Funeral procession vehicles are identified for other drivers. The funeral attendant will typically place a magnetic flag that reads "Funeral" on all cars in the procession and instruct participants to turn on their headlights for the drive to the cemetery. This signifies the members of the funeral procession to other motorists.
The last car in the procession is identified differently. The final vehicle bears two funeral flags and has its hazard lights flashing to indicate to other motorists that the procession has ended and that traffic may resume.
Drive slowly. Funeral processions drive at a pace that's below the normal speed limit. You'll likely drive 25 – 30 mph on side roads, and no more than 50 mph on the highway.
Stay close to the car in front of you. Don't allow room for a vehicle that's not in the procession to merge into the line.
Follow the procession at all times. In most states, traffic ordinances give a funeral procession the right-of-way and other motorists must yield until the procession has passed. So, even if it means you must go through a red light at an intersection, continue in the procession. Never leave your place in line unless there's an emergency.
If You Encounter a Funeral Procession
Although the laws can vary by state, you'll be safest if you keep these points in mind when you come across a funeral procession:
Always yield. Once the lead car has entered traffic, such as going through an intersection, the entire procession follows without interruption. Even if their traffic light is red and yours is green, you should stop and allow the cortege to continue through the intersection until all cars in the procession have passed. If possible, its best pull over and allow the procession to pass before proceeding.
Don't pass. Drivers traveling in the same direction as a funeral procession shouldn't pass or attempt to pass unless they're on a highway that has two or more lanes going in that direction. When on a highway, never pass a funeral procession from the right side unless its traveling in the far left lane.
Watch for the last vehicle in the procession. It typically has two or more funeral flags and its hazard lights flashing. Once it passes by, you may resume the normal flow of traffic.
Be respectful. Never honk your horn, rev your engine, or display any other type of impatient behavior at a funeral procession.
The funeral procession is a revered tradition that can bring great comfort to those saying their final goodbyes. If you have questions, or would like to include a procession in your loved one's send off, please reach out to our caring professionals.
About Batchelor Brothers Funeral Services: As a leading African American-owned and operated funeral and cremation organization serving three states, Batchelor Brothers Funeral Services has provided a ministry of care to thousands of grieving families. We promise to provide our highest level of distinguished service and respect to families who entrust us to honor their loved one. In all aspects of the funeral process, we strive to be the absolute best and are honored to help preserve our clients' legacies for future generations. With two convenient locations serving North and West Philadelphia, as well as Drexel Hill, it is always our pleasure to be of service. Please visit our website for more information.
Previous Posts
When the weather turns frigid and the days grow short, it's a sure sign that cold and flu season is on the way. Winter is around the corner, signaling the battle cry against seasonal illnesses. It...