Make Your Loved One's Military Funeral Memorable with these Creative Ideas
Sunday, October 31, 2021
When a military service member or veteran passes away, a distinctive final salute is in order. These brave men and women made tremendous sacrifices and they deserve to be celebrated.
Their patriotism and courage can be highlighted in a number of ways that extend beyond traditional military funeral honors. Read on to learn more about our suggested ideas for honoring the life of a departed member of the armed forces.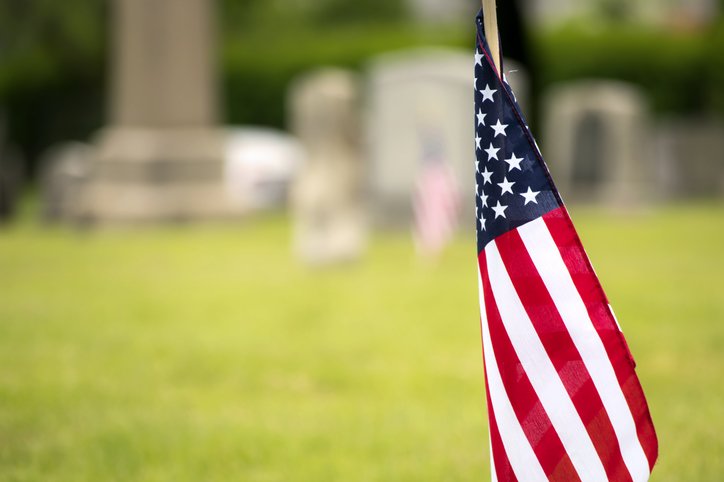 Highlight service-related memories.
During a funeral, memorial, or celebration of life ceremony, guests are often invited to contribute their fondest memories of the departed and honor a life well-lived. These remembrances can be physical, digital, or a combination of the two. It can be particularly moving when those who served alongside the veteran share imagery from their time together in deployment. These pictures and stories are likely to be new to most friends and family members and can provide added insight into your loved one's life and service to our nation.
Incorporate a military theme.
From funeral programs and memory cards adorned with patriotic designs to decorations that reflect specific branches of the service, there are many ways to subtly create a patriotic ambiance. You might recite special military poems such as The Soldier's Prayer or A Tribute to Veterans, or play theme songs for his or her branch of service during the repast.
Select military burial products.
Families of deceased veterans often choose a casket that commemorates their service to the nation. A particular material, color, or patriotic design may represent the military qualities that are so important in their lives. Other caskets have personalization options, such as commemorative panels, medallions, and corner emblems.
Incorporate their passions.
What were your serviceperson's favorite pastimes? Perhaps they were a nature lover. Consider having the ceremony outdoors in a serene park or another beautiful setting. Was your veteran an avid sports fan? Decorate the repast venue with their team's memorabilia and ask funeral guests to don the team colors. The options are endless for incorporating a person's passions and interests into a celebration of their life.
Assemble a memorabilia display that pays homage to their service.
This exhibit could take a variety of formats. For example, you might set up a memory table during the visitation that displays your loved one's medals, uniforms, pictures, and various achievements from his or her time in service. This type of exhibit would also be appropriate for display during the repast.
Speak the language of flowers.
Florists can create a wide array of stunning patriotic funeral arrangements. From red and white rose arrangements that symbolize unity, to the constancy that's represented by blue hyacinths, there's sure to be a wreath, standing spray, casket adornment, bouquet, or centerpiece that perfectly suits your loved one's memory.
Celebrate their home life, too.
As important as it is to highlight the career of those who served in the armed forces, their personal attributes and dedication to the family should not be forgotten. Balancing an active military career and personal life is no easy task. Showcasing the departed's dedication to family and friends is just as significant as applauding their illustrious military career.
The dedicated staff at Batchelor Brothers Funeral Services is proud to honor our nation's veterans. We are here to provide you and your family with professional and dignified support during your time of need. Please reach out to us if you have questions or need assistance in any way.
About Batchelor Brothers Funeral Services: As a leading African American-owned and operated funeral and cremation organization, Batchelor Brothers Funeral Services has provided a ministry of care to thousands of grieving families. We promise to provide our highest level of distinguished service and respect to families who entrust us to honor their loved ones. In all aspects of the funeral process, we strive to be the absolute best and are honored to help preserve our clients' legacies for future generations. With two convenient locations serving North and West Philadelphia, it is always our pleasure to be of service. Please visit our website for more information.
Previous Posts
When the weather turns frigid and the days grow short, it's a sure sign that cold and flu season is on the way. Winter is around the corner, signaling the battle cry against seasonal illnesses. It...