Pay Tribute to Your Departed Loved One with These Six Memorial Garden Ideas
Friday, February 4, 2022
When you've experienced the passing of a loved one, time can be a wonderful healer.
The pain of loss is eventually replaced with fond memories and recollections. A memorial garden is an inspiring way to honor the departed and pay tribute to their life while creating a special place for quiet reflection.
In this article, we will offer some helpful information and imaginative memorial garden ideas so you can craft a lovely, tranquil space that meets your needs.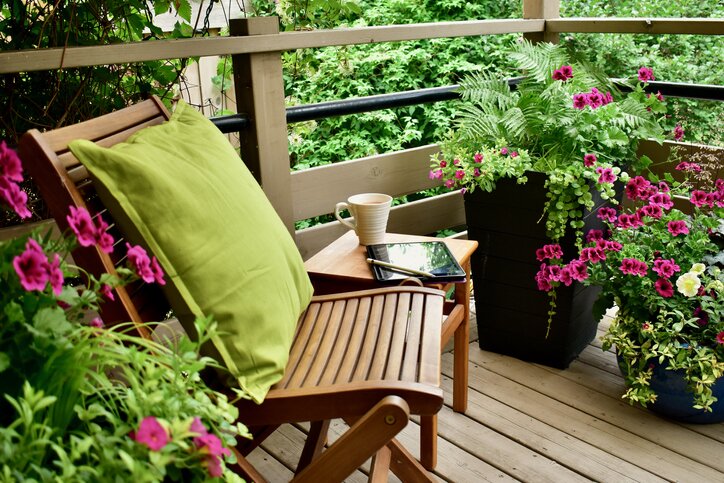 Make it your own.
One of the great things about memorial gardens is that are no hard and fast rules for their design. What is most important is how it makes you feel when you visit and the personal meaning it brings to you. Your garden might be a long pathway of flowers that extends to a pond, a small plot of greenery, or a single tree that greets you each morning from the kitchen window. Your plans may also depend on how much space is at your disposal. Even if your outdoor area is limited or non-existent, don't be deterred. You can still plant and grow meaningful items on the balcony or in a window box.
What should you plant?
Assess your available space and ensure there is enough light, drainage, and that the soil type is correct for the plantings you are considering. Then think about specific varieties that represent your loved one. Is there a special flower or plant they adored? Do bright, colorful flowers remind you of their cheerful personality? Choosing vibrant perennials such as geraniums and phlox will beautify the space and attract native butterflies, too. Wildflowers and forget-me-nots are easy to grow and will return year after year. Roses are a timeless favorite, synonymous with everlasting love and affection.
Incorporate the things they enjoyed most.
Whether the deceased was a fan of football, music, or the arts, there are many creative ways to integrate little pieces of who they were into your memorial garden. Not only will it make the space more attractive and interesting, but it will help you feel close to your loved one when you spend quiet time among their favorite things.
Blend in some symbolism.
Consider adding representational details into the garden. For example, angels symbolize peace and the heavenly spirit so adding an ornament is a beautiful way to make the space more serene. If you'd rather liven up your memorial garden, you could include a bird feeder to attract feathered friends such as doves, which symbolize love, grace, and peace.
Add a water feature.
The sound of water is naturally relaxing, so incorporating a small pond or fountain in your memorial garden will make the space even more tranquil. It will also attract a variety of birds and wildlife, creating a vibrant and flourishing natural habitat.
Include a place for rest and reflection.
You or other visitors to the garden may want to spend an extended amount of time there so having a comfortable place to sit is probably in order. An engraved wood settee or stone bench are wonderful ways to add a dash of personalization.
We hope you find these memorial garden ideas helpful. If you need additional suggestions or wish to make funeral arrangements, we are always here to assist you. Please reach out to our caring professionals anytime.
About Batchelor Brothers Funeral Services: As a leading African American-owned and operated funeral and cremation organization, Batchelor Brothers Funeral Services has provided a ministry of care to thousands of grieving families. We promise to provide our highest level of distinguished service and respect to families who entrust us to honor their loved ones. In all aspects of the funeral process, we strive to be the absolute best and are honored to help preserve our clients' legacies for future generations. With two convenient locations serving North and West Philadelphia, it is always our pleasure to be of service. Please visit our website for more information.
Previous Posts
When the weather turns frigid and the days grow short, it's a sure sign that cold and flu season is on the way. Winter is around the corner, signaling the battle cry against seasonal illnesses. It...