The Rooms in a Funeral Home Perform Many Important Functions
Thursday, March 10, 2022
Funeral homes are designed to be peaceful, comfortable places for family and friends to gather for support and reflection.
A comforting environment, accessibility, ample space, and caring staff are among the most sought-after features. While the structures can vary in terms of their size and style, they all exist to assist the bereaved during their grief journeys. You probably never gave it much thought, but each space within the funeral facility plays an important role, as well.
Here is an overview of the rooms in a funeral home along with a description of each.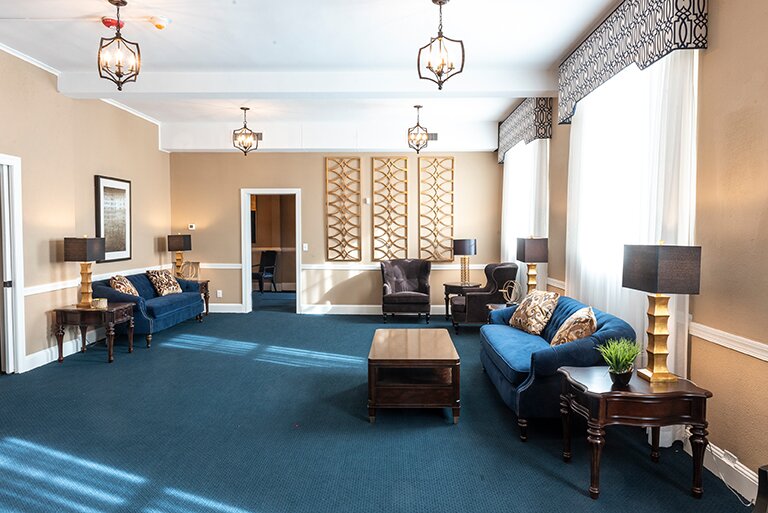 Arrangement Room
Discussing plans for funeral arrangements is a deeply personal matter. For this reason, the arrangement room is a quiet, confidential space that is often secluded from the rest of the facility. Grieving families meet with funeral directors in the arrangement room to craft tender tributes to their departed loved ones.
Display Area
Funeral homes are often large in order to accommodate the sample funeral merchandise they wish to showcase. The display room houses key items such as caskets, urns, and liners. Due to space limitations, a small selection of what is available is usually displayed. Ask your funeral provider for a catalog if you would like to see a more complete selection.
Preparation Rooms
The body of the departed is prepped for burial in the preparation room. Depending upon the services selected, this may include embalming, hair styling, makeup, dressing, or other amenities. Mourners do not use this space; it is usually found in the basement or in a separate building on the property.
Reposing Room
After preparation for burial, the departed is placed in the reposing room until the viewing or funeral takes place. Some funeral homes also use the reposing room for private family viewings before the memorial service.
Reception Rooms
Visitation with family and friends takes place in the reception room, so it represents the most-used area of the funeral home. Memorial services and celebrations of life may also be conducted here. Most funeral providers offer several reception rooms of varying sizes to accommodate the number of guests expected. These areas are usually set up for audio-visual displays and other common funeral practices.
Miscellaneous Spaces
Administrative rooms are often located toward the back of the facility, giving visitors a sense of peace and tranquility as they enter. Some funeral properties also have crematoriums, chapels, repast facilities, on-site catering services, and children's playrooms.
At Batchelor Brothers Funeral Services, your comfort is our most important concern. We combine funeral premises of distinction with exceptional care and accommodation. If you would like to learn more about our services or if you wish to make arrangements, please reach out to us anytime.
About Batchelor Brothers Funeral Services: As a leading African American-owned and operated funeral and cremation organization, Batchelor Brothers Funeral Services has provided a ministry of care to thousands of grieving families. We promise to provide our highest level of distinguished service and respect to families who entrust us to honor their loved ones. With two convenient locations serving North and West Philadelphia, it is always our pleasure to be of service. For more information about our funeral, cremation, memorial, and repast services, please visit batchelorbrothers.com.
Previous Posts
When the weather turns frigid and the days grow short, it's a sure sign that cold and flu season is on the way. Winter is around the corner, signaling the battle cry against seasonal illnesses. It...