Five Common Questions (And Answers) About Veterans Burial Benefits
Sunday, July 14, 2019
Funerals, memorials and celebrations of life offer opportunities to honor and recognize a service member's heroism and contributions. Whether you're making final arrangements for a deceased veteran or are a veteran making your own funeral arrangements, this article will help you to determine which of the many benefits to which you may be entitled.
From burial allowances to 21-gun salutes, military service members and their families have a lot more options that you may realize. Here are five frequently asked questions about veteran's burial benefits: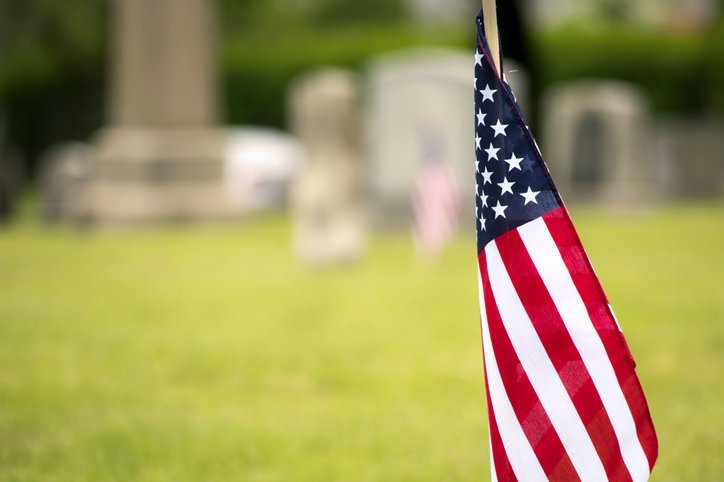 1. What documentation is required to verify military service? A "Report of Separation from the Armed Forces of the United States" (discharge papers) is required to verify military service. This report, also known as the DD214, or its equivalent must be submitted to the Department of Veterans Affairs (VA). If this report isn't available, a Standard Form 180 can be sent to the Military National Personnel Record Center. A copy of the Report of Separation will then mailed to the veteran, deceased veteran's next of kin, or other persons or organizations that are authorized to receive it. Your funeral director will be happy to assist you with securing, competing and submitting all required forms.
2. What are military funeral honors? All active service members and veterans who did not receive a dishonorable discharge are entitled to free military funeral honors. The ceremony involves draping an American flag over the casket or beside the urn and the playing of Taps by a lone bugler or a recording. After Taps is played, two uniformed military personnel honor the veteran by folding the flag and presenting it to the next of kin. A rifle volley, also known as a 21-gun salute, may also be requested.
3. What type of reimbursement or allowance does the VA provide for funeral expenses? The VA offers an allowance to cover a portion of funeral and burial/cremation costs. If a veteran dies due to a service-connected cause, the family of a veteran may be eligible for an allowance of up to $2,000. For a non-service-connected death, the VA will pay a smaller specified amount to the family. Interment, burial/cremation and funeral allowance amounts are dependent on a number of factors, including the date of death and whether or not the veteran was under VA hospital care at the time. For the most updated information, please review the Veterans Affairs fact sheet.
4. Are veterans required to be buried in a National Cemetery? Veterans and active duty military are free to be laid to rest in any cemetery of their choosing, not just a military-specific burial place. In the U.S., there are 135 National Cemeteries located in 40 states. Veterans who were discharged in any way but dishonorable, active duty military personnel, spouses, and their children may all be laid to rest in one of these cemeteries. Burial in a National Cemetery requires specific documentation regarding the deceased's discharge, branch and service. When submitting the paperwork to the VA, you can express your preference for a specific National Cemetery, but there's no guarantee of availability in that location.
5. Who's eligible to receive a headstone or grave marker? Even if your veteran loved one is being buried in a private cemetery, the VA can furnish a veteran's headstone or grave marker at no cost. Headstones and markers are available in bronze, granite, or marble. If you choose to purchase your own headstone or marker, you can request a free bronze medallion to affix to it. These medallions are inscribed with the word "Veteran" at the top and include the individual's branch of service at the bottom.
At Batchelor Brothers Funeral Services, we value the many sacrifices our veterans and their families have made in order to preserve our freedom. With decades of experience planning funerals for thousands of service members, we are experts in making sure the veterans in our care receive the deeply respectful, dignified funeral honors they deserve. If you need assistance planning a military funeral for a loved one, please reach out to our caring, attentive staff. It's always our pleasure to serve you.
About Batchelor Brothers Funeral Services: As a leading African American-owned and operated funeral and cremation organization serving three states, Batchelor Brothers Funeral Services has provided a ministry of care to thousands of grieving families. We promise to provide our highest level of distinguished service and respect to families who entrust us to honor their loved one. In all aspects of the funeral process, we strive to be the absolute best and are honored to help preserve our clients' legacies for future generations. With three convenient locations serving both North and West Philadelphia, as well as Trenton and Drexel Hill, it is always our pleasure to be of service. Please visit our website for more information.
Previous Posts
When the weather turns frigid and the days grow short, it's a sure sign that cold and flu season is on the way. Winter is around the corner, signaling the battle cry against seasonal illnesses. It...