Honoring our Heroes: Five Creative Ideas for Military Funerals
Wednesday, October 30, 2019
Military veterans have made tremendous sacrifices and deserve to be honored, especially during their funeral services. In addition to the standard military honors and burial benefits that eligible veterans can receive, many families incorporate military service elements throughout the funeral in other ways.
Whether it's a full honors ceremony or an intimate family gathering, here are five clever ideas for paying tribute to the life of a deceased member of the armed forces.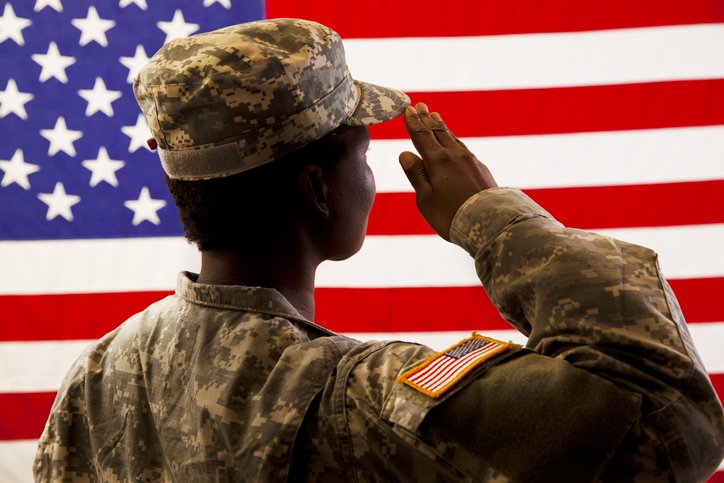 Select a military casket.
Families of deceased veterans often choose a casket that commemorates their service to the nation. A particular material, color or patriotic design may represent the military qualities that are so important in their lives. Other caskets have personalization options, such as commemorative panels, medallions, and corner emblems.
Incorporate their passions into the service.
What were your serviceperson's favorite pastimes? Perhaps he or she was an avid nature lover. Consider having the ceremony outdoors in a serene park or other beautiful setting. If your loved one had an artistic flair, friends and family could fashion a piece of artwork together in his or her honor. The resulting creation could then be displayed in the family home and passed down to future generations. Was your veteran an avid sports fan? Decorate the repast venue with his or her team's memorabilia and ask funeral guests to wear the team colors. The options are endless for incorporating a person's passions and interests into a celebration of their life.
Assemble a military memorabilia display.
This exhibit could take a variety of formats. For example, you might set up a memory table during visitation that displays your loved one's medals, uniforms, pictures and various achievements from his or her time in service. This type of exhibit would also be appropriate for display during the repast.
Encourage healing through music.
If your veteran was in a band, a live musical accompaniment might be just the thing to honor his or her memory. Or, perhaps a soloist playing your loved one's favorite instrument could provide the background soundtrack to the ceremony. Ask the funeral home about their audio capabilities. If speakers are available, you could simply plug in your phone or other music-streaming device and share the playlist of the decedent's favorite songs before, during or after the service. You could also capture the military atmosphere by including some songs from his or her branch of the armed forces, such as "Anchors Aweigh" for Navy veterans or "The Wild Blue Yonder" for those who served in the Air Force.
Speak the language of flowers.
To honor those who have nobly served their country, florists can create a wide array of stunning patriotic funeral arrangements. From red and white rose arrangements that symbolize unity, to the constancy that's represented by blue hyacinths, there's sure to be a wreath, standing spray, casket adornment, bouquet or centerpiece that perfectly suits your loved one's memory. If he or she was had a favorite flower, make it an integral element of the arrangement.
When members of the military pass away, their many sacrifices should be acknowledged and celebrated.
These heroes deserve to be honored in a special and highly personalized manner. Transforming an ordinary military funeral into a deeply meaningful occasion can be tremendously powerful for family and friends in attendance.
The dedicated staff at Batchelor Brothers Funeral Services is proud to do our part to honor our nation's veterans. We are here to provide you and your family with professional and dignified support during your time of need. Please reach out to us if you have questions or need assistance in any way.
About Batchelor Brothers Funeral Services: As a leading African American-owned and operated funeral and cremation organization serving three states, Batchelor Brothers Funeral Services has provided a ministry of care to thousands of grieving families. We promise to provide our highest level of distinguished service and respect to families who entrust us to honor their loved one. In all aspects of the funeral process, we strive to be the absolute best and are honored to help preserve our clients' legacies for future generations. With three convenient locations serving both North and West Philadelphia, as well as Trenton and Drexel Hill, it is always our pleasure to be of service. Please visit our website for more information.
Previous Posts
When the weather turns frigid and the days grow short, it's a sure sign that cold and flu season is on the way. Winter is around the corner, signaling the battle cry against seasonal illnesses. It...